Reviewing the best in non-mainstream acoustic guitar music
Home | Facebook | Podcast | Archives | Submissions | Free CD Giveaway | Subscribe | About | Links
July/August, 2017

Daryl Kellie & Jon Hart, "Set Adrift," 2017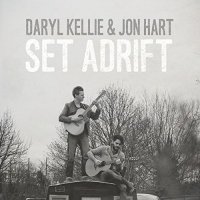 Talk about a concept album! British singer/songwriters and fingerstyle phenoms Daryl Kellie and Jon Hart embarked on a musical tour on the Thames, traveling via a "narrowboat"-that also just happens to serve as Kellie's home. These two prodigious talents, who have solo careers as well as backgrounds in numerous bands, crowdfunded the money to produce Set Adrift, their first joint effort, with music crafted from that excursion. Their backgrounds are eclectic-heavy metal, jazz, and, for Kellie, classical- but the guitar work derives primarily from the progressive acoustic guitar tradition of Michael Hedges, Preston Reed, and Andy McKee. Overall the CD is moody, multilayered, and jazz-influenced, with ample use of natural and artificial harmonics. It includes six pieces whose titles relate directly to the watery theme, and four that go with the flow in a different way. Kellie and Hart are distinctive vocalists, as displayed on the beautiful version of Hart's "Father" (from his CD Reborn), Kellie's "Wintersong," and the scat-like "Englishman in New York" with its sly lyrics (I'm an illegal alien"). But perhaps even more impressive are their arrangements and intuitive interplay; they sound like one guitarist with twenty nimble fingers (though sometimes, as in "Downstream," Kellie plays a differentiating harp guitar). The title track, with an ominous heavy metal aura, and "The Lock" have river-related lyrics, but even on the instrumentals-from bluesy virtuostic "High Tide" to atmospheric Ripples" to "Little Drifter" (perhaps an homage to McKee's "Drifting")-we feel the easeful meditative ebb and pull of the water. Clearly, by being set adrift with just their instruments, Kellie and Hart tapped into a vibrant creative flow. With results like this, one can only hope these two versatile musicians take to the seas for many more musical adventures.
© Céline Keating

Buy it at Amazon.com
Listen to "Little Drifter"
Listen to Set Adrift at our podcast
Eduardo Isaac, "Baroque," 2017

We all owe a debt of gratitude to Maestro Andres Segovia for taking the music of some of the Baroque era masters and transcribing their works for the 6-string guitar. Segovia most notably brought Bach to the guitar, but others soon followed and today we have a prodigious repertoire available to delight listeners. Eduardo Isaac continues in that line with his latest release, Baroque, covering four composers – Telemann, Bach, Handel, and Scarlatti. He does not rely on others for the guitar transcriptions, but has provided his own transcriptions, and well done, bringing out the character and playfulness of each piece with the multiple voices the classical guitar allows. The playing throughout is crisp, delicate when needed, and lively in some of the more upbeat passages. Telemann appears briefly with just his Fantasia no.5 to open the disk. Isaac takes on Bach's Suite Francaise no.2 BWV 813, hitting all the right ideas as we glide through the six movements, particularly doing justice to the difficult Courante, and bringing out the full flavor of Bach's counterpoint in the Gigue. Handel (spelled Haendel on the disk) is brought to life through his Suite no.8 HWV 433. The Allenande is well known to most listeners of classical music, and Isaac does nothing to diminish its stature as a delightful represenetative of Handel's best work. The disk concludes with three Sonatas from Domenico Scarlatti, the first being "La Pastoral K430," a lovely dance where the melody twirls and dips. One note from the cover I never realized – Bach, Handel, and Scarlatti were all born in the same year, 1685. A fine vintage, indeed. And Isaac's treatment on guitar of these master composers is sweet music to the ears as well.
© Kirk Albrecht


Eduardo Isaac's Website


Buy it at GHA Records
Listen to "Courante"
Listen to Eduardo Isaac at our podcast
Peter Bradley Adams, "A Face Like Mine," 2017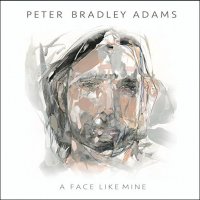 Quiet, contemplative, and utterly compelling, Peter Bradley Adams's A Face Like Mine is, simply, stupendously good. The production, by Lex Price, has a burnished perfection, and each of the nine, roots-based indie folk songs is striking and memorable, the kind that lodges in the brain and heart and won't let go. Adams has a Masters in music composition and has worked as a film and TV composer (his songs and music have appeared in over 30 films and television shows), expertise that no doubt has enabled him to produce disarmingly assured music that commands the space where pop meets profound. Adams's sound has a kind of dreamy intensity, with lyrics that are emotionally powerful and well-crafted. On this 6th studio solo release, his pleasing vocals are enhanced by the ethereal harmonies of Caitlin Canty and Misty Boyce and a topnotch team of instrumentalists, among them Noam Pikelny (banjo), Jason Cheek (drums), and a slew of superb guitarists, including Greg Liesz (weisenborn) on the title track. On "Who Else Could I Be," propulsive finger picking underscores a sense of despair, while "Lorraine" calls to mind the darkness of Neil Young's "Down by the River," lent intensity by electric guitars (Todd Lombardo and Stanton Edwards), tenor guitar (Price), and pedal steel (Tich Hinman). Standouts among standouts are "Stay for a While," graced by Todd Lombardo's soulful slide acoustic; "On Jordan's Stormy Banks," where Adams's hypnotic finger picking plays off against Price's commanding tenor acoustic and mandolin; and "Come Tomorrow." This final song is emblematic of the whole: stripped down beauty exquisitely expressed by the guitar solos and the interplay among the Adams (acoustic), Price (tenor), and Jonathan Trebing (electric). A Face Like Mine is a stunning achievement that should vault Adams to the kind of recognition he so richly deserves.
© Céline Keating

Buy it at Amazon.com
Listen to "Lorraine"

Daniele Bazzani, "Do Not Open (It May Contain Traces of Music)," 2016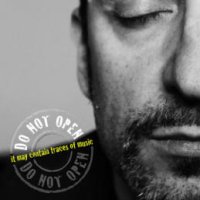 There's lots of variety in the fifteen compositions on Italian Daniel Bazzani's latest CD, reflecting his love of blues, the Great American Songbook, and more recent popular music. "The Circus" opens the set with modal riffs that remind me of Neil Young, that is, until Bazzani changes direction in the anthemic middle section. He follows with "Unexpected Valentine," reminiscent of early 1980s pop - think Toto - which features some dazzling arpeggios. I enjoyed this CD from the beginning, but "Short Eno" won me over - it's a perfect gem that would have been at home on John Renbourn's iconic album, The Hermit. "John Weldon's Dance" begins with a bluesy sequence that recalls "One Kind Favor," then changes key in the second section, to complete a tune that would sound at home in the Gershwins' Porgy and Bess. Another piece in the same vein is "The Iron Rag." The wistful "Alison" has Bazanni developing a beautiful melody in the middle and upper registers, using open strings against fretted notes for a cascading effect. Barbara Eramo supplies the album's only vocal, "Morning Don't Wait for Me," which fits well in this otherwise all-instrumental set. Bazzani plays "Dan on the Moon" on a nylon-string guitar, sketching out a beautiful melody before changing tempo with a muted boom-chuck that evokes Chet Atkins playing a broadway show tune. He closes with "The Night Song," a reflective and appropriately named piece, played on a steel-string baritone. I love Bazzani's compositions and the tone he achieves on each instrument he plays. Fingerstyle guitarists should check out this recording as well as transcriptions and instructional materials for sale on his website.
© Patrick Ragains


Daniele Bazzani's Website
Buy it at Amazon.com
Listen to "Short Eno"
Steep Ravine, "Turning of the Fall," 2017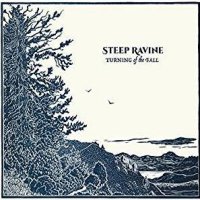 Steep Ravine forges a rootsy amalgam with a bluegrass/newgrass base, working in tasty elements of folk and pop, all overlaid with a laid-back California vibe. The thread that weaves it all together on Turning of the Fall is Jan Purat's expressive violin. Purat turns mournful, hopeful or joyous depending on singer/songwriter/guitarist Simon Linsteadt's lyrical intentions. Rounding out this West Coast four piece are string bassist Alex Bice and percussionist/keyboardist Jeff Wilson. The four musicians work together to present a multi-layered acoustic fusion, featuring nuanced textures that incorporate elements of jazz and softer rock. Much of the focus on the nine originals here revolve around themes of loss, regret and ache. "Out My Window," "I've Tried," "Wallflower," "Kansas City Moon" and "Turning of the Fall" are thoughtful, contemplative pieces. However, the band just as easily morphs into its Celtic-inflected instrumental number, "Highland Hornpipes," and shows off its chops. Linsteadt and Purat first teamed up in high school before studying music at the University of California Santa Cruz and the California Jazz Conservatory. The story goes that the band gained its initial following by playing at a Hawaiian barbecue spot and various metro stations around San Francisco. Since then they've taken on some heavy touring and recording. Turning of the Fall is the band's third CD, and follows their debut collection, Trampin' On, and The Pedestrian.
© Fred Kraus

Buy it at Amazon.com
Listen to "Kansas City Moon"

Home | Facebook | Podcast | Archives | Submissions | Free CD Giveaway | Subscribe | About | Links

Indiana Fingerstyle Guitar Festival July 28 - 30, 2017: Competitions, Concerts, Workshops and more!