Reviewing the best in non-mainstream acoustic guitar music
Short Takes | Facebook | Podcast | Archives | Submissions | Free CD Giveaway | Subscribe | About | Links
May/June, 2014

Steve Dawson, "Rattlesnake Cage," Black Hen Music 2014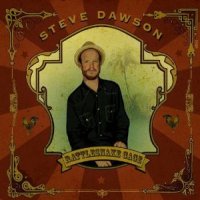 Day was sliding toward night, with Steve Dawson's "Rattlesnake Cage" along for the ride, his Jumbo Larivee guitar resonating rich and mellow. Hoping to bask in the daily miracle of transitional light, I crank up the stereo and step onto the back deck. Sweet blue sky is fading to bottomlessness. Then, as if on cue, a lone bat appears, circling in wide arcs, swooping and dipping in some symbiotic rhythm to Dawson's "The Medicine Show Comes to Avalon." With a rolling fingerpicking technique that recalls Mississippi John Hurt, Dawson and that acrobatic bat go at it like trapeze artists, steady and determined but light as a feather. Song and bat put on their own medicine show, illuminating the wonder of nature as shadows lengthen interminably before disappearing. As the following song, the CD's title track, lilts in, lone bat is joined by two others, each maintaining a separate non-overlapping orbit. Dawson's careful intertwining of three themes support the three beautifully erratic flights of the early-evening airborn insect-eaters. Back inside, leaving the bats to their work, it's and time to turn on the lights, and things slow down – and uncannily, again – movements seem choreographed to Dawson's sensuous, languous, lovely "Lighthouse Avenue." Talk about synchronicity – that was one magically coincidental triple-play of music. But perhaps that's the effect that Dawson's fretboard talent can have on a person. The Canandian native gets into your head, into your aura. His musical stew offers a hint of blues for the soul, unerring tempo for the mind, ragtime for a historical bounce, and whimsy for the romantic in all of us. No flash and mirrors, either, as he says on the liner notes: "I stuck a Neumann M49 microphone (that had been hanging from the rafters of a church in Detroit for 50 years) in front of me … no overdubs or effects, just some fingers, slides and guitars." While all 11 tracks were nicely penned by Dawson, you might hear the hint of an echo of some pretty wonderful influences: John Fahey, Peter Lang, Leo Kottke, Ry Cooder. This pleasant disc is truly about a man and his guitars – six- and 12-string acoustics, a National Tricone, and a Weissenborn Hawaiian – with no human voice to come between them. A few sips of Dawson's musical nectar could become intoxicating.
© Fred Kraus
Buy it at Amazon.com
Listen to "Flophouse Oratory"
Listen to Steve Dawson at our podcast
Jason Vieaux, "Play," Azica Records 2014

Many classical musicians – guitarists included – release CDs either of one composer's works (an all-Bach disc, for example), or programmatic recordings that might follow some melodic or technical theme. Jason Vieaux's latest record, "Play," does neither of those, but it's pure genius. What Vieaux has done is assemble a smorgasbord of great guitar works he and his audiences love. From Latin to European to North America, from classical to samba to jazz, from slow to fiery, "Play" is a panoply of pleasure for listeners who just want to hear a guitarist with immense skill play wonderful music. No track disappoints on "Play." Jason Vieaux is a man on top of his craft, playing with passion without restraint, adding the right touch of rubato or color – whatever the music needs. Most all the pieces would be considered part of the modern guitar repertoire, with such standards as "Tango en Skai" by Roland Dyens, "Cavatina" from the movie The Deer Hunter by Stanley Myers (played with all the tenderness it deserves), and "Sunburst" by Andrew York. The CD includes some great pieces from the standard classical repertoire by the masters, like "Capricho Arabe" (such passion and douleur!) and "Recuerdos de la Alhambra" (demonstrating complete mastery of the right hand) by Francisco Tarrega. Interestingly, the only other work from Spain is "Estudio Sin Luz" by maestro Andres Segovia. There is some great work by some of Vieaux's favorite Latin American composers like "Jongo" by Paulo Bellinati, "Vals, Op. 8, No.4" and "Las Abejas" (showing suburb dexterity and control) by Augustin Barrios, and "Vals Venozolano No. 3" by Antonio Lauro of Venezuela. The disc ends sweetly with a terrific arrangement of Duke Ellington's classic "In a Sentimental Mood." I am sure the Duke would have been pleased. Anyone who likes great guitar playing will be pleased with Jason Vieaux's latest effort.
© Kirk Albrecht


Jason Vieaux's Website
Buy it at Amazon.com
Listen to "Sunburst"
Andy McKee, "Mythmaker," 2014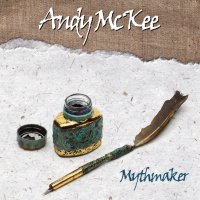 On "Mythmaker," Andy McKee explores new avenues in his music, expanding his sound beyond fingerstyle acoustic guitar. McKee became a YouTube sensation with his piece "Drifting," which showcased his technical brilliance and virtuosity and jumpstarted his career. On this new four-song EP, he will assuredly please his devoted fans and make plenty of new ones as well. The title track, performed on a baritone guitar with altered tuning, is vintage McKee, with melody lines that flirt with percussive tapping and other rhythmic effects. "The Reason" has a sweet melody and is chockfull of intricate techniques like doublestop hammer-ons and graceful pulloffs. But he ups the ante, experimenting with more variations than you can keep track of, shifting tempos and dynamics, and the piece keeps reinventing itself. But there are more surprises. Lovely and haunting "June," a solo piano piece with not a note of guitar, has a kind of quiet elegance and melancholy reminiscent of George Winston's compositions. Though it's just a few lines of melody, with repetition and slight variations of timing and tone, it's a jewel of perfection. An especially nice touch is the surprising ending chord. The closing piece on the EP is "Lumine," which is flat out gorgeous. Centering on a strong, searing melody, it opens with a gentle piano refrain that soon is overlaid with lines of surging electric guitar over the piano and acoustic phrases, all weaving in and around each other in mesmerizing complexity. In just four short pieces, McKee has created a rich, emotionally deep world. In his continual exploration of harmonic, melodic, and rhythmic ideas, and playing with precision and passion, McKee creates music that is as stimulating as it is beautiful.
© Céline Keating


Andy McKee's Website
Buy it at Amazon.com
Listen to "The Reason"
Heather Maloney + Darlingside, "Woodstock," Signature Sounds 2014

When you name your recording after a seminal song like "Woodstock," it better be good. And damn. Their lush harmonies, superb acoustic musicianship and unique arrangements loaded with dynamics make me want to put this on permanent replay. From a jaded old reviewer like me, that means a lot. Heather, usually a solo singer-songwriter, and Darlingside, a four piece band, started separately in the Pioneer Valley of western Massachusetts and in 2013, did a tour together. Their version of "Woodstock" caught the ear of the New York Times. It's no wonder. Their beautiful harmonies and artful arrangement really make this song shine. Heather's voice sounds like a young Joni Mitchell as it soars above the guys' harmonies. That's where the similarity to the original version ends. Various instruments weave in and out to create a thoughtful and spare first verse. The second section features more of a groove. The final verse starts quietly and builds again until at the very end, a violin plays us a short requiem. Stunningly beautiful. The other four cuts on this EP are originals – two by Darlingside and two by Heather. Heather's songs are focused on her beautiful lyrics, the instrumentation dancing around their centerpiece. On "Roadside Lily" she begins with, "I'm a roadside lily, swaying in the wake of an 18 wheeler / I'm delicate and pointless, no one planted me." It makes you lean in closer, wondering what's coming next -- the mark of a talented poet and not just another singer-songwriter singing her journal entries. It features her straightforward finger picked guitar with the band adding subtle banjo rolls and more of those expressive harmonies. Her other piece, "No Shortcuts," has a darker feel and again, with poignant lyrics that move the beautiful melodies forward. The first verse is about getting lost on back roads and finding that there are no shortcuts. The other two verses deal with life; she discovers that there are no shortcuts to happiness or love, either. It's all underlined with the drone of strings (probably cello and violin), stabs of an eerie violin, hand claps and the heartbeat of a bass drum. (Or it might be someone pounding on a guitar. That's my only complaint about this release; the liner notes don't include musician credits. Lyrics would've been nice, too, if not on the CD cover, maybe on a website.) Darlingside penned "You Forget" and "Whippoorwill." Their lyrics don't present a story we're meant to follow, but offer a series of paintings with vivid color, some dark and some bright. On "Whippoorwill" the vocals are even a little buried. It doesn't matter because they contribute to the overall feel of the song, as if the vocals were just another instrument blending with the chop of the mandolin chords, delicate banjo and that cool bass drum sound. The lead vocals are performed by someone with an airy but strong tenor. Their vocal blend is impeccable. I'm putting this one on repeat play. Join me.
© Jamie Anderson


Heather Maloney's Website | Darlingside's Website
Buy it at Amazon.com
Listen to "Woodstock"
Roland Dyens, "Nuages," GHA Records 2014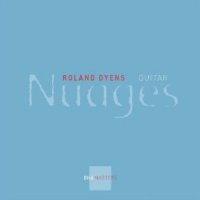 French guitarist Roland Dyens' current release is an eclectic collection of salient performances and inventive arrangements. Since beginning his musical journey at nine years of age, the prodigious talent has received numerous international awards and accolades. He is the only classical guitarist ever summoned to play a concert in France honoring the legendary Django Reinhardt. Currently, Dyens teaches at the Conservatoire National Supérieur de Musique de Paris. Although the album features some of the guitarist's sophisticated and adventurous compositions, the focus of this recording is on his unique and innovative arrangements of pieces borrowed from both the classical and jazz cannons. As revealed in his eloquent liner notes, an arranger leaves a very personal and intimate impression in his version of the piece; whereas, a transcriber merely replicates the original composition. With this in mind, Dyens leaves his own indelible imprint on the compositions he arranges. Furthermore, the musicianship on this offering is absolutely astonishing. His soaring pinpoint, guitar work is articulate and passionate. The album begins with Django Reinhart's "Nuages," featuring eloquent jazz comping matched by incendiary, over the top, single note excursions. Dyens expressive and exuberant swinging on his take of "Felicidade" captures the essence of Jobim's joyous anthem. His bluesy, pensive reading of Thelonious Monk's "Round Midnight" brings to mind Baden Powell's legendary cover of this trademark composition. Dyens interpretation of these jazz standards from a classical perspective breathes new life into works that have been recorded numerous times. His improvised cadenzas are unequivocally stunning and innately musical. The guitarist pays tribute to the great French polymath Boris Vian in his original composition "Ville d' Avril." This dramatic piece features dissonant chord voicings, angular melodic themes, and percussive nuances. The album closes with a thoughtful and reflective version of Eric Satie's "Gnossienne No. 1," marking an appropriate closure to a noteworthy recording. Roland Dyens' "Nuages" is an extraordinary work, one that should become essential listening for those interested in refreshing and alluring arrangements and unique, original compositions. This album is highly recommended for listeners of both classical and jazz styles and those interested in hearing music played at the highest possible level imaginable.
© James Scott

Buy it at Amazon.com
Listen to "Nuages"

Doc Watson, "Milestones," 2014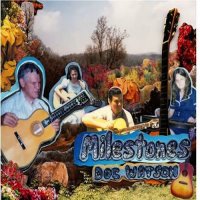 The career of Arthel "Doc" Watson (1923-2012) is well covered by commercial recordings and several DVDs, yet nothing previously available conveys the intimate perspective of "Milestones." Doc's daughter Nancy was the guiding force behind this four-disc and book set, comprised of private, unreleased recordings and presented as a documentary of the musical lives of Doc Watson and his extended family. As expected, "Milestones" includes recordings from Watson's professional career from the mid-1950s through late recordings with his grandson Richard. Yet there's much more here - fiddle, banjo, and singing by Doc's father-in-law, Gaither Carlton, a good sampling of son Merle Watson's talents on fingerstyle and slide guitar, singing from Doc, his wife Rosa Lee, daughter Nancy and family, and narration tying it all together. Doc's legendary guitar playing is strongly present throughout, notably in "Deep River Blues", "Foggy Mountain Breakdown", and other pieces with Merle. Each CD focuses on a theme and is titled accordingly: Origins, The Early Years, Changes, and Revival. Highlights of the first disc include some rousing playing by Gaither Carlton, Rosa Lee's unaccompanied rendition of "Pretty Saro" and Doc's "I'm Bound For Glory". The second disc presents such gems as 1950s recordings with Doc and pianist/bandleader Jack Williams and Doc's overdubbed home recording of Hoagy Carmichael's "Stardust", played on electric guitar. Changes, the third disc, begins with "Muskrat", by Doc, brother Arnold, and Ralph Rinzler. Midway through the disc, Doc, Rosa Lee and Merle relate the story of Merle's remarkably rapid progress as a guitarist, followed by recordings of Merle accompanying cousin Vaughn Carlton, Ralph Rinzler, and Doc, all made in the first weeks after Rosa Lee taught Merle his first chords. Changes ends with a selection of Doc and Merle's live performances from the late 1960s and early 1970s. The last CD, Revival, picks up with several more performances from Doc and Merle, featuring Merle's deft slide guitar. In "Merle's Testimony", Doc relates circumstances around Merle's death in 1985 after a farming accident. The set is rounded out by several duets between Doc and grandson Richard, gospel tunes featuring Doc, various family and neighbors, and Merle's instrumental, "When I lay My Burden Down", played in the style of Mississippi John Hurt. The book includes Roy Andrade's essay on the project, photo collages, and Andrade and Jody Stecher's notes on the music. All fans of Doc Watson and American folk music should own this superb and emotionally moving documentary.
© Patrick Ragains

Buy it at Open Records
Listen to "Spanish Fandango"

Martin Paris, "Acoustically Speaking," Solid Air Records 2012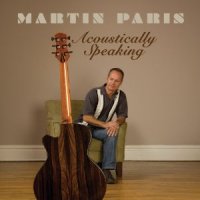 Martin Paris is a fine fingerpicker, as revealed on "Acoustically Speaking," his third solo recording. It's fitting that Paris is playing a Martin OMC-LJ28 on the opening cut, "Acoustic Attitude." The tune reveals several elements (walking baseline, chord patterns) that reflect the stylings of Laurence Juber, the inspiration for that Martin model and obviously of this piece, even down to Juber's common DADGAD tuning. Paris does well in matching the titles of his songs to their feel. For example, "Low Resistance" is meant to show that even in life's trials, there are better days ahead. So the guitar whines and moans with string pulls and call and response treble and bass parts to reflect our common lot with a hope that all isn't dark. "Twenty Seven Ocean View" contains some lush chordal work augmenting a sweet melody. The Beatles' "Norwegian Wood" – covered by hundreds of players – gets a lively arrangement. You can tell Paris is a Beatles fan. "Liam's Lullaby," written for his first grandchild, is a sweet melody full of warmth and light. We even get some funky 12-bar blues on "Deja Blues." Paris understands the dynamics of a fine steel string guitar with its shimmer and sustain, and uses it to good effect on most all the songs on "Acoustically Speaking." This is really a disc of life, love, and faith, and Paris infuses his playing of these 12 tracks with the personal quality all good music possesses.
© Kirk Albrecht

Buy all three Martin Paris CDs at Acoustic Music Resource
Listen to "A Good Place"
Listen to Martin Paris at our podcast
Rupert Wates, "The Rank Outsider's Ball," 2014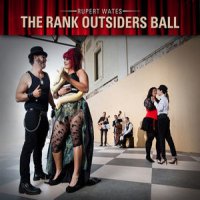 Rupert Wates and his Band of Geeks take a dash of Dan Hicks, a smidgen of Django, and a little dose of the English music hall leavened with the panache of an expert continental café quartet. Wates is, if you listen closely, a marvelous lyricist - he writes words that sing, and scan effortlessly in service to their melodies. It comes a bit from the tradition of the British musical variety theater, mixed with a healthy dose of cabaret, but it is no throwback. Wates mixes a bit of Weimar decadence and noir-cracked naugahyde in "The Lost Ones." Then, on "Suspend Our Disbelief (A Little Longer)" he mashes Cole Porter with Mel Torme. Can he sing? Oh yeah. Listen to the melancholy torcher "Time." And the voice, it contains all of the openness and invitation of contemporary Nick Lowe, but it is Wates' own incarnation. It is a voice perfectly suited to the venue. And what of that venue? You get insistent rhythms and tropes you think you know, but you really don't, we don't really follow this tradition, but Wates reminds us why and how these rhythms and tropes still work. Where Tin Pan Alley could be so cloying, and Porter so arch, Wates is real, as real as the cracked naugahyde at The Rank Outsiders Ball. His Lowden guitar sits in the rhythm section with the double bass, hand percussion, and keyboard stylings of the very talented Bartosz Hadala, who takes most of the solos on variety of keyboards, very notably the B-3 on "Suspend Our Disbelief (A Little Longer)." Wates, for his part, touches on Laurindo Almeida in the most casual way, incorporating subtle extended chords into a proto-pop palette that is, again, a bit early Tin Pan Alley, but now. And his lyrics, at first one is tempted to call them Brechtian, but not really, they're actually better, more subtle and supple, devoid of didacticism, Brecht's achilles heel. And his brevity…stunning. He brings in 14 songs in just over 37 minutes, with only four songs longer than three minutes, and three of those longer by a matter of seconds. So what you get here is an under-recognized master of the indie circuit having fun making what was never truly old new. You hope he, and the Geeks, receive their due, because the time out of mind experience delivered here is deeply affecting. Oh, and one more thing, the artwork on this project is a feast for the eyes, revealing a deep affection for the vibe of the project-and art directed by Rupert Wates.
© Steve Klingaman

Buy it at Amazon.com
Listen to "Time"

Fernando Perez, "Six Strings Around the World," 2014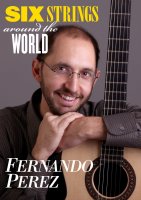 Starting in his native Spain, then traveling on to the Americas, Hawaii, Asia, Africa, the Middle East, Greece, France, then back to Spain, this DVD offers Fernando Perez's perspective of guitar music worldwide. Perez brings to bear many talents in his musical passion; he's a widely skilled fingerstyle player, has an impressive historical knowledge of music and culture, and is a strong composer. He begins the program with "Alexandrian Waltz", an evocation of Spain (although written in Egypt), then continues with "The Mandinka Song", in the spirit of African kora music. Perez plays a convincing bottleneck blues dedicated to Robert Johnson before moving further south to Latin America to offer his impressions of Mexico, Brazil, Argentina, and Peru. "Liliuokalani", an Hawaiian-influenced piece, is played lap style with a slide on a modified wood-bodied guitar. He follows this by returning to the U.S. for a bluegrass piece, also played lap style. "Khamaj Dhun" is rendered in the manner of Hindustani slide. Perez's Asian and Middle Eastern influenced compositions, played on a fretless nylon string guitar, are among my favorites. He ends his journey by sampling two Western European styles, gypsy jazz and flamenco. Perez is so casual throughout this personal travelogue that it's easy to take his accomplishments for granted - but don't. Fingerstyle players will find much to broaden their horizons here, and the program seems a natural supplement to group guitar instruction.
© Patrick Ragains


Fernando Perez's Website
Buy it at CD Universe
Listen to "Six Strings Around the World"
Home | Facebook | Podcast | Archives | Submissions | Free CD Giveaway | Subscribe | About | Links
Laurence Juber, Doug Smith, Al Petteway, Phil Keaggy (and many more!) at Acoustic Music Resource