Reviewing the best in non-mainstream acoustic guitar music
Short Takes | Facebook | Podcast | Archives | Submissions | Free CD Giveaway | Subscribe | About | Links
May/June, 2012

Drew Nelson, "Tilt-A-Whirl," Red House Records 2012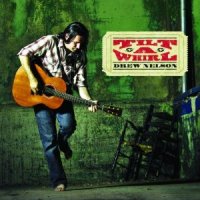 The opening lines of "Promised Land" on Drew Nelson's new CD "Tilt-A-Whirl" evoke the hard-luck optimism that permeates most of his work that now extends over 3 full length CD's and one EP: "Up in the morning before the sun / Listen to the train whistle whining / Where is it going? / Where has it been? / Why does it pass me by? / Fill up the thermos / go meet Jose / cold winter day on the corner / I'll do cement work, whatever they say as long as the jobs come my way / That's how it is / Just getting by is the plan / Welcome to the world of the working poor here in the Promised Land." This everyday truth and realism is a perspective that has been authentically mined by artists from Springsteen to Steve Earle, Dave Alvin to Eliza Gilkyson. The themes on this CD do not stray from his earlier offerings, as he once again creates songs inhabited by migrants, the working poor, ex-marines, farmers, ethnically diverse and small-town people who live at ground zero of life in rural America, past and present. The opening anthem-ish "Promised Land", complete with searing lead guitar and driving beat is of the same ilk as John Mellencamp or Steve Earl tunes that ooze the same sentiments, and are oft imitated today on the country music charts. What keeps Drew Nelson from being just another of a growing list of artists included in the bland stew of country music today? The answer, for me, lies in the lyrics of Nelson's "Here to There", a lament about a life on the road and the helplessness of not being able to be where you want to be; the paradox present in choice, freedom, responsibility and the regret that inevitably ensues – "The poet says it's all just ashes and smoke / And this heat down in Texas it will take you by the throat / And it dances on the pavement like I'm dancing with the ghost of you." This guy isn't just singing about the characters in his stories, he is singing among them, a departure from his 2009 release "Dusty Road to Beulah Land." I may be the one dissenting opinion, but his "Dusty Road" CD largely re-worked the unassuming, honest, innocent surprise of his first full length CD "Immigrant Son," and thereby lacked those very same qualities. Nelson's confidence, increased sense of conviction, and grit is the change-maker on "Tilt-A-Whirl." This is not an in-your-face "Springsteen/Earle" type of integrity, it is far more subtle and honest. It's what creates "Tilt-A-Whirl's" pleasing sense of verisimilitude. One listen to the haunting, ragged, and unflinching "Copper" and you will feel the power and raw intensity of Lake Superior that only a boy from Michigan's Copper Country could convey in song (apologies to Mr. Lightfoot). Nelson's Red House debut will firmly establish his place in folk/country music for many years come.
© James Filkins
Buy it at Amazon.com
Listen to "Promised Land"

Tim Sparks, "Post-Modern Fingerstyle Blues," TrueFire 2011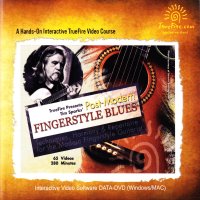 There are few players on the scene who have attempted a more varied steel-string guitar portfolio than Tim Sparks. His Eastern-European and Jewish offerings have been breathtaking for their skill in handling sonically varied and challenging repertoire. Now, Sparks has recorded via TrueFire a series of DVD-based blues guitar lessons called "Post-Modern Fingerstyle Blues." The "post-modern" label is Sparks' way of opening up a traditional American musical form to a global perspective and influence, showing the cross-fertilization of these musical styles that all could be considered "blues." Like everything Tim Sparks puts his prodigious talents to, it's inspiring, and will serve as a resource to guitar players who want to sit at the feet – at their own pace – with one of the modern masters. TrueFire offers these lessons either on disc, streaming, or downloads through their website. It's true interactive learning - with customizable video lessons with multiple camera positions, .pdf tab and notation files, and full ability to pause, rewind, and fastforward lessons. You can use practice rhythm tracks and create your own playlists. Online, you can share videos of your playing for a community of virtual learners. For his lessons, Sparks works through 8 showcase pieces that will challenge every level of player, even though this disk is labeled early-late intermediate. The tunes selected cover a variety of blues styles in various time signatures that will ground students in every aspect of "post-modern" blues playing. Several of the tunes are klezmer-based. Sparks helps you understand the engine of the blues, so you can build your own arrangements of these great songs, and develop a heightened ability to create voicings, fingerings, and harmony. Like most video and online instruction, there is ample split-screen views to see both right and left hand. Sparks does a commendable job of breaking down his approach and technique for viewers, and if you're not picking it up fast enough, you can always pause or stop for a while! TrueFire has other Sparks lessons, and a wide variety of guitar styles to explore if you want to do something other than the blues. This is good guitar instruction at an affordable price that will serve players of just about any age or skill level.
© Kirk Albrecht
Buy it at Truefire
Listen to "Mississippi Blues"

Martin Sexton, "Fall Like Rain," 2012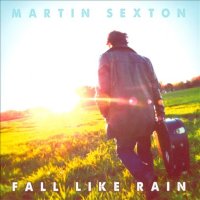 Martin Sexton takes on some big issues with his tenth release, "Fall Like Rain." You know, songs with themes like world peace, everlasting love, societal unrest, and the pure joy of life. That's a lot of ground to cover, and this is only an EP – and a five-song EP at that! Fortunately, Sexton dives right in, erstwhile and undeniably sincere. With Sexton, it's largely all about the voice, his being a twisting, swirling ribbon of near-liquid metal buffeted by the wind. He slides into and out of a satiny falsetto with little apparent effort. The guy is smooth, and his approach works best with the disc's two love songs, both very small and very personal, and very nice: Burlington and Happy Anniversary (Six Years). With Burlington, Sexton displays his accomplished lower register, which suits this track perfectly. He's a sweetheart and a happy fellow, infectiously so. Similarly with Sexton's ode to life, "Fall Like Rain," his lyrics point to a person who suddenly, it seems, is awakened to the wonderment and mystery and joy of life. Even the most cynical will be moved. In a different vein, Sexton multi-tracks his voice into an angelic choir with the call-for-harmony anthem "One Voice Together," which unfolds agreeably to a soulful '70s groove. An able guitarist who honed his vocal chops early on as a street singer, Sexton lets his fretwork shine on the only cover track, Stephen Stills' "For What It's Worth." Everyone who had a foot in the '60s remembers those haunting, and slightly menacing, opening words: "There's something happening here, what it is ain't exactly clear…" Obviously, it's dicey taking on a classic with cultural icon status. Some might dispute Sexton's transforming Stills' cautionary tale into a jazzy little ditty – even if it the reconstituted product transmits a surprisingly pleasant vibe. Sexton's musical production is sweet and clear throughout, organic and pure.
© Fred Kraus
Buy it at Amazon.com
Listen to "Fall Like Rain"

Ewan Dobson, "III," CandyRat Records 2012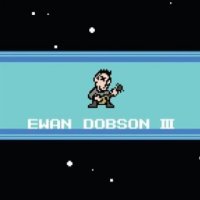 From the first propulsive notes of Ewan Dobson III, Dobson's third release, your spine will straighten and jaw drop. But Wow! doesn't quite cut it. It's hard to find adequate superlatives to describe Ewan Dobson's playing and compositions. Maybe brilliant, thrilling, astonishing? The 16 songs " all but a few not written or co-written by Dobson " show him to be an inventive and ferocious experimenter and virtuoso who makes heavy metal and classical not only compatible but inevitable. Dobson, a Canadian, has won many of his country's competitions – both as a classical guitarist and as a fingerstylist – and his third release includes everything from the traditional "Blackberry Blossom" to classical "Caprice No. 10" by Paganini (played not with fingers, classical style, but with a flat pick), to a feverish Georgian folk tune, to a lovely version of "Hallelujah" by Leonard Cohen that showcases Dobson's command of tone and dynamics. "My Nightmare" features percussive tapping effects and chiming harmonics, while a videogame-tech influence is apparent on "Level 40" and "Legend of the Brown Goat." Dobson cracks open "Ice Winter Rock," one of the most beautiful offerings, with a startling and gorgeous flamenco-inspired passage. But the centerpiece of the album is the breathtaking "Acoustimetallus Plectrus." This sensational composition incorporates high-octane arpeggios and scales, an exotic Mid-Eastern-sounding diversion, and a percussive effect of a repeated bass rather than an alternating bass that has to be viewed on Youtube to be believed. Dobson's virtuosity is such that it threatens to overshadow other compelling aspects of his music – mastery of tone, color, dynamics, and compositional intelligence - that can be appreciated best with repeated listening. Without question, Dobson is one of the most compelling guitarists on the scene today.
© Céline Keating
Buy it at Amazon.com
Listen to "Blackberry Blossom"

New West Guitar Trio, "Round-Trip Ticket," 2011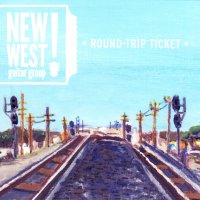 The New West Guitar Group's fourth musical offering "Round Trip Ticket" continues to redefine the boundaries of the conventional guitar trio format. Combining the unique sonic timbres of various acoustics with solid and hollow body electrics, the collective creates an innovative and alluring travelogue. The trio consists of Perry Smith, Jeff Stein, and John Storie. Forming while still at the University of Southern California, the group soon found themselves exploring avenues beyond their straight ahead jazz roots. In addition to recording and teaching, the ensemble also tours extensively across North America performing at a variety of venues from Yoshi's Jazz Club to the prestigious Montreal Jazz Fest. Joining the trio on "Round Trip Ticket" is Brady Cohan, who adds innovative electric textures on four of the compositions. While the album has more of an electric feel than previous releases, the acoustic guitar still remains the compositional center and focus throughout the recording. The journey begins with the playful "Arrowhead," and sets the pace for this remarkable album. The composition features brilliantly conceived unison and harmonic phrases, intricate fingerstyle chords, and swinging jazz lines. "U-Haul Breakdown" is an intense blue grass burner with blazing single note flurries backed by determined rhythmic accompaniment. On the meandering "Wandering on a Trail" the three construct gorgeous, introspective harmonies with delicate interplay. While the closing "Wake Up Call" showcases ambitious electric soloing flanked by powerful, dramatic, rhythm. On the New West Group's "Round Trip Ticket," the collective intricately weaves folk, jazz, rock, classical and country to create a unique sonic tapestry. With the various timbres of the instruments used and the masterful playing by each member, the group creates kaleidoscopic sound paintings with interesting polyphonic harmonic excursions. This album is highly recommended for listeners of all types of music, particularly the adventurous ones, who enjoy both innovative playing and captivating compositions.
© James Scott
Buy it at Amazon.com
Listen to "Rivercrest"
Listen to New West at our podcast
Dion, "Tank Full of Blues," Blue Horizon 2011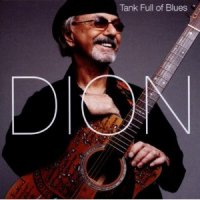 As it was with so many of the musical giants of early rock and roll, it was with Dion. The blues inspired him and the blues continue to inspire and sustain him. And "Tank Full of Blues" is exactly what it claims to be, a no holds barred, paean to the music that afforded Dion a life in the biz. From early rock and roll and his massive hits "The Wanderer" and "Runaround Sue," to the psychedelic sixties and the progressive harder edged sounds of the seventies, to the glam of the eighties and grunge of the nineties, and to the urban sounds that surround us today, Dion has persevered and is no worse for the wear. In fact, he's quite the bluesman and a superb guitarist. As producer Richard Gottehrer has said, "The history of rock and roll is all right there in that voice." I'd take it a step further: the history of the best of American music is in that voice and in those fingers. "Tank Full of Blues" is more than just a collection of good, mostly original, blues. It's an invitation to rediscover one of the greats, to go back and reacquaint oneself with some of the greatest recordings of the late fifties and to follow a man from his entrance on the scene in the late fifties as rock and roll prodigy to his current status as master bluesman and elder statesman of rock and roll. Dion rocks. And respect must be paid.
© Chip O'Brien
Buy it at Amazon.com
Listen to "You Keep Me Cryin'"

Stefan Grossman, "How to Play Ragtime Guitar," Guitar Workshop 2012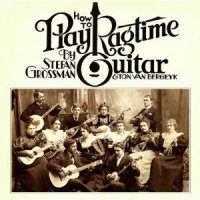 Kicking Mule Records first released this collection in the mid-1970s. On 18 tracks, Stefan Grossman and Dutchman Ton Van Bergeyk survey solo fingerstyle arrangements of raggy blues, classic ragtime, popular songs and related genres. Their playing sounds fresh today, and as a tutorial the disc provides an excellent introduction to the styles of early players, including Blind Blake, Reverend Gary Davis, and Sam McGee, before moving into classic rag territory with "St. Louis Tickle" and the cakewalk, "Georgia Camp Meeting." Some of the best playing is heard on bluesy pieces like Grossman's original "Struttin'Rag," "Hard Hearted Hannah," also by Grossman, Van Bergeyk's "Ton of Blues" (which bears a filial relationship to "Hesitation Blues") and the pop song, "Jealous." Other gems include Grossman's rendition of "Powder Rag," (Rory Block's arrangement), the Gary Davis rarity, "Slippin' 'Til My Gal Comes in, Partner," and Frank McGee's "Franklin Blues. " The disc is also noteworthy for presenting the seldom-recorded Van Bergeyk, who has since become a minor legend among fans of ragtime and blues fingerpicking; his bouncy, smart arrangements are a treasure (Van Bergeyk also has several recent videos on YouTube). This music was formative for many fingerpickers in the 1970s, and I'm happy that it's available again.
© Patrick Ragains




Stefan Grossman's Guitar Workshop
Buy it at Amazon.com
Listen to "Blake's Breakdown"
Peter Mulvey, "The Good Stuff," Signature Sounds 2012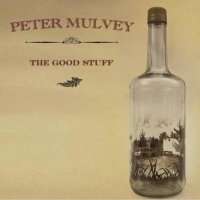 The indications are it started out to be a straight-ahead standards record, and then took a turn into more idiosyncratic material-and it worked out just fine. From the wine-infused sentiment of Melvern Taylor's "Sad and Blue" to the gimlet-eyed observations of Leonard Cohen's "Everybody Knows," Peter Mulvey is a singer who is long on personality and point of view. For those who don't know Mulvey's voice, Dr. John and Greg Brown come to mind. Mulvey's version of "Everybody Knows" highlights what everybody knows, which is that Cohen's lyrics are sublime; quite so in Mulvey's rendition. Mulvey's ability to recast and reveal lyrics becomes a recurring theme in this outing, and it's a testament to his deft touch with an arrangement that he seems to do it so effortlessly. Little transformations occur where you hardly expect them. Mulvey's reading of the Tom Waits/Katherine Brennan tune "Green Grass" makes you swear Greg Brown wrote it. And understated settings capture an almost conversational feel at every turn of phrase. His organic ensemble, the "Crumbling Beauties," mesh like fine nylons as they perform live in the studio, offering a cohesive acoustic personality. On it's own terms, the band pulls the elegiac Bill Frisell instrumental "Egg Radio" deep into its Americana roots. If it isn't a standard, it should be; and you can say that about nearly all of Mulvey's song choices. Like Nick Lowe, Mulvey makes you want to take him home from the gig and beg him to unpack his guitar again in your living room. It's a certain ease, and charm, that makes his take on these nonstandard standards so compelling they seem to beg another listen.
© Steve Klingaman
Buy it at Amazon.com
Listen to "I Don't Why I Love You"

Australian Guitar Duo, "Songs From the Forest," 2012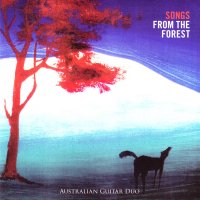 Lovers of the dazzling fingerstyle work of Tommy Emmanuel might be unaware of a sizeble and talented cache of other Aussie guitarists. This new disc by The Australian Guitar Duo will serve as a reminder that there's more Down Under than just koalas and dingos. The Duo is Jacob Cordover and Rupert Boyd, and they serve up a tasty mix of contemporary and traditional classic guitar work that is as well conceived and performed as most any duo recording today. They reflect sensitivity, power, and elegance in their playing, with a wide range of dynamics that serves the music well. The CD opens with two compositions by modern, living Australian composers, "Djanaba" by Ross Edwards, and the title cut, Songs From the Forest," by Nigel Westlake. "Songs From the Forest" is enchanting and moody, weaving contrasting guitar parts in a complex texture that reveals shades of Leo Brouwer's work (also featured on the CD in "Three Songs," Brouwer's medley of Beatles' tunes, played just right by the Duo). Another modern Australian guitarist and composer, Phillip Houghton, is featured on two pieces. "Three Duets" begins with the undulating, at times frenetic "The Mantis and the Moon," followed by the languid and gentle "Lament," and concludes with "Alchemy," a twisting trade of parts that bring out the best in Cordover and Boyd's skills. The other Houghton composition, "Brolga," a 5-part study in angular, dramatic lines, is named for a large stork native to north Australia. Cordover and Boyd present a lively, rhythmic "Spanish Dance" by Manuel de Falla with its characteristic Andalusian color. Another Spanish work, "Danza Espanola no.2 'Oriental'" by Enrique Granados is played with grace and sensitivity throughout the darker tones of this classic. The CD ends with "Emily's Song," another composition by Ross Edwards. It is lyrical, almost a lullaby, and is a perfect capstone to a fine recording sure to please the most demanding listeners. "Songs From the Forest" is a terrific suite of a wide expanse of classical duo guitar.
© Kirk Albrecht




Australian Guitar Duo's Website

Buy it at Amazon.com
Listen to "She's Leaving Home"
Listen to The Australian Guitar Duo at our podcast
"Jamie Stillway", 2012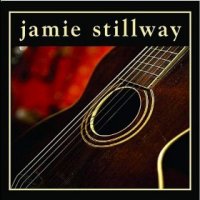 Jamie Stillway's latest CD of original material is a self-titled collection of instrumental guitar pieces. The album begins with the quirky, virtuosic piece "Analysis Paralysis" which sets the tone for the bouncy, acrobatic guitar style that prevails throughout the disc. Following in the path of many purist, performance-oriented guitar players, Stillway performed this CD as a series of live takes. This fact is written proudly on the back cover of the CD jacket, as if to say "this is the genuine article – you won't find any digital editing or studio trickery here!" The performances are all the more cohesive and engaging for it. The music reaches a high point on "Sparky's Dream". While the title might evoke a thought cloud floating above a sleeping Dalmatian, the piece feels more like a reflection on a rewarding but labyrinthine journey. It glides through quiet tensions, rewarding the listener with a refrain that resolves in a sigh-evoking, soul-satisfying way. "Amboseli" is a haunting piece reminiscent of the guitar style adopted by Joni Mitchell on her earlier recordings; perhaps something from the Clouds era. The CD enjoys a textural shift on "The Other End of a Lullaby", where Jamie picks up a charango to change things up. The lilting, ethereal instrument is a welcome detour from the guitar. "Jamie Stillway" would be a welcome addition to any library of instrumental guitar music, and for my part it is one which I expect to return to often. My only criticism is that the album is too short, but that brevity helps to define this quiet collection of highly enjoyable, cerebrally soothing guitar music.
© Jared Fiske
Buy it at Amazon.com
Listen to "Sparky's Dream"

Home | Facebook | Podcast | Archives | Submissions | Free CD Giveaway | Subscribe | About | Links
Laurence Juber, Doug Smith, Al Petteway, Phil Keaggy (and many more!) at Acoustic Music Resource