Reviewing the best in non-mainstream acoustic guitar music
Home | Facebook | Podcast | Archives | Submissions | Free CD Giveaway | Subscribe | About | Links
March/April, 2017

Eric Johnson, "EJ," 2016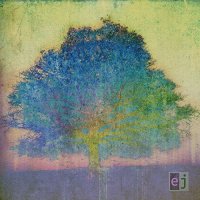 EJ is an all-acoustic offering by Austin based guitar virtuoso, Eric Johnson. While most identify the legendary artist by his trademark, sustaining electric guitar tones, the acoustic has always been a vital and integral part of his live and studio performances since the early 1980's. Although primarily self-taught Johnson has a sophisticated and intricate finger-style approach borrowed from such masters as Jerry Reed and Chet Atkins. The recording is equally divided between introspective vocal pieces and jaw dropping instrumentals. Some pieces showcase his piano with the guitar used in a supportive role, while most of the compositions prominently feature his 1980 Martin D-45 in all its sonorous glory. The recording begins with a wondrous, instrumental version of Simon and Garfunkel's "Mrs. Robinson." Here Johnson fills the room with dense percussive textures, elaborate chordal movements, and pinpoint melodic deconstructions of the melody all emanating from one instrument. His jaw dropping version of Les Paul's "The World is Waiting for the Sunrise" contains rapid-fire finger-picking flanked by incendiary arpeggio filled runs, while the meditative "Serinidad" is a Latin-tinged ballad showcasing some reflective single string improvisations on a nylon stringed guitar. An inspired reading of Jimi Hendrix's "One Rainy Wish" contains dramatic rhythm guitar and jazzy piano riffing with expressive vocal nuances. "Once Upon a Time in Texas" is another highlight of the recording invoking western themed cinematic imagery and brilliantly capturing the essence of his Lone Star homeland. EJ will serve as a unique addition to Eric Johnson's catalog and should clearly verify that his talents go way beyond his formidable electric playing. This album is highly recommended for all fans of acoustic music and for those wanting to hear this extraordinary talent in a completely different setting.
© James Scott
Buy it at Amazon.com
Listen to "Song For Irene"

Ralph Towner, "My Foolish Heart," 2017

Ralph Towner is the undisputed master of fingerstyle jazz playing on the classical guitar. Since his 1970 recording debut with the Paul Winter Consort he has gone on to cofound the group Oregon and recorded frequently for the ECM label, alone and in collaboration with many musicians. But in his extensive discography the truly solo recordings--just him and a guitar--have always occupied a special place. This solo album takes its title from the only cover on it, a version of the Victor Young/Ned Washington standard--chosen because of the powerful impact the seminal Bill Evans Trio recording at the Village Vanguard had on him as a young musician--a beautiful rendition which does justice to both the song and the inspiration. Towner has a rare ability to achieve a full, piano-like sound while still staying in the moment improvisationally. The rest of the program covers a range of Towner originals, from the singing theme of "I'll Sing To You" to the dance rhythms of "Dolomiti Dance" to the harmonic ambiguity of "Blue As In Bley," his tribute to the late avant-garde pianist Paul Bley. He revisits two older compositions written for Oregon: "Shard" dates all the way back to their first album, Music of Another Present Era (Vanguard, 1972). "Clarion Call" and "Biding Time" employ the acoustic 12-string guitar, another instrument that has long been part of Towner's voice. At age 76 Towner is still at the height of his powers: he has never sounded better.
© Mark Sullivan
Buy it at Amazon.com
Listen to "Dolomiti Dance"

Cary Morin, "Cradle to the Grave," 2017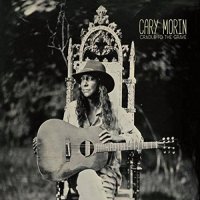 While taking Cary Morin's new disc, Cradle to the Grave, for a spin, the TV in the other room was playing, by an odd coincidence, "Cadillac Records." That compelling – if flawed -- film chronicles the story of the record label Chess Records, and its founders, Leonard Chess and his brother Phil Chess, champions of blues musicians. Chess brought to the public the power, passion and purity of such musical giants as Muddy Waters, Howlin' Wolf, Willie Dixon, Bo Diddley, John Lee Hooker, Chuck Berry, Etta James, Little Walter, and so many, many more. Singer/songwriter/fingerstyle guitarist Cary Morin pays homage to those blues icons, and finds his sweet spot in the acoustic and country blues realm, with a nod to folk and rock. He defines a very nice space for himself on his 11-track (eight originals and three covers) Cradle to the Grave, which completes his three-album project of acoustic recordings. It's an exceptional work, and showcases Morin's accomplished picking, thoughtful lyrics and expressive vocals. He's a musician with something to say and knows how to communicate it. He has said, "The theme of spirituality seems to weave its way into my work more often as the years pass…. I hope we are put on this earth to help each other and should we find ourselves alone for some reason, there is still someone there with us, a higher power to help us complete our journey." Being a Crow tribal member, Morin brings special significance to his "Dawn's Early Light," written in support of the efforts of the Standing Rock Sioux Tribe. His range includes fine covers of Prince's "Nothing Compares 2 U" and Phish's "Back on the Train." The son of an Air Force officer, Morin was born in Billings, Montana, and founded a band in 1989, The Atoll, which toured for more than 20 years. In 2013 and 2014, Morin won the Colorado Blues Challenge Solo Championship, and in 2013 received a Lifetime Achievement Award from the Fort Collins Music Association. In addition to his solo pursuits, Morin performs with Young Ancients, with John Magnie and Steve Amedee of The Subdudes.
© Fred Kraus
Buy it at Amazon.com
Listen to "Laid Back"
Listen to Cary Morin at our podcast
Lance Allen, "String Poet," 2016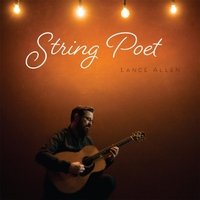 It's always interesting to get new music from someone who is not new, who has been plugging away for years, honing his or her craft, and making some mighty fine music along the way. So as I first listened to String Poet by acoustic guitarist Lance Allen, I was struck by how well crafted the songs were, along with excellent arrangements for violin and cello on several tracks. As I dug a little deeper, this is not Allen's first time around the block, but it's actually his fifth solo guitar release! And he has been playing a long time and doing session work and giving Skype lessons, too. Just goes to show you there is lots of great music out there you may not know about! String Poet is a lovely disc of just 10 songs and a sparse 32 minutes of delilghful playing and melodic vibrancy. Maybe "Just a Moment" captures in 4:27 (the longest cut on the CD) all that makes this record pleasing: clean fingerpicking, a well-defined melody with harmony, and beautiful accompaniment from violin and cello. Allen's fascination with all things Viking led to writing "Viking at Rimrock," the name of the street he moved to! Allen gets funky on "Ezra's Groove," while "Sail On" is a lush, gentle nugget that projects nothing but calm waters and a crystalline sea ahead. Allen is upbeat and bright on "Thankful Morning." Sometimes song titles don't reflect the spirit of the tune, but this one gets it right. "Waltz with Joy" could be named for someone, or perhaps it just embodies the spirit of the waltz; it does have joy. The CD ends with the Atkins-like "Grocery Store Tune," employing the thumb-driven technique poplularized by Chet Atkins and Merle Travis, and delivered with such brilliance by Tommy Emmanuel, one of Allen's most formative influences. Throughout the disc, Allen has few displays of jaw-dropping speed or technique, but he plays everything really well, giving guitarists and lovers of guitar music much to appreciate.
© Kirk Albrecht
Buy it at Amazon.com
Listen to "Up On Cloudstreet"
Listen to Lance Allen at our podcast
Catie Curtis, "While We're Here," 2017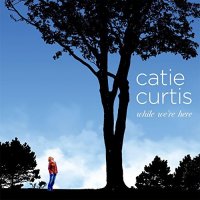 After Catie Curtis announced that her current tour would be her last, she assured concerned fans that she was "happy and healthy." She dropped While We're Here about a month later. Curtis says the album's themes of "letting go, loss, and joy-filled resilience" helped ready her "to create a new chapter" in her life, yet unwritten. That's heavy stuff to hang on some folk-rock tunes. But Curtis has always been a confessional writer with a light touch who regards her songs as conversations. This time she's talking to anyone dealing with change, namely everyone. She keeps the language plainspoken, the melodies straightforward. The opener asks a universal question, "Is it real life yet?" and ends with the decision to let her heart decide, "Through all these changes." The tune achieves a certain jauntiness, but check out the uncharacteristic, long outro. Its single note piano and guitar phrases act as a weighty counterpoint to the rhythm section. "My Betraying Heart" (co-written with Maia Sharp), an album highlight, begins with a piano phrase that sets a serious tone; the lyrics are movingly honest. Church bell chords on guitar open "Don't Belong to this World," told in the voice of a friend whose husband died suddenly, unexpectedly ("Everything broken / Everything changed"). There's a world weariness in Curtis' voice for "If I Fall." In it, love is "like a stone on my chest." The vocals are mixed out front, the instruments subdued, until Elena Arian's violin enters with a lovely, introspective solo expressing the paradox of love "keeping us apart." Curtis saves the most upbeat cut ("You are Loved") for her teenage daughter. Adolescence is all about change and uncertainty. The penultimate cut provides only the cold comfort that, "Even when the love remains. People change." The CD ends with a pretty lullaby (co-written with Jenna Lindbo). All Curtis "has is a song to sing for you... wishing there was more I could do." But the gift of this album is that more. Catie Curtis is happy, healthy, full of uncertainty, ready for whatever comes next and hoping that what these tunes did for her, they can do for you.
© David Kleiner
Buy it at Amazon.com
Listen to "While We're Here"

Canadian Guitar Quartet, "Mappa Mundi," 2017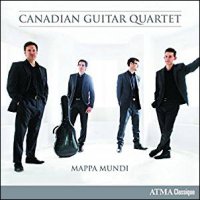 The Canadian Guitar Quartet brings together four of the best guitarists in their country. Each have individually impacted the classical guitar landscape in their own powerful and unique ways, and together as the CGQ they combine their talents to form one of the most sought after ensembles in Canada. Mappa Mundi is their fourth studio album, which they have gradually released since their debut in 2001. The disc opens with a lovely and distinctive Vivaldi concerto for two cellos arranged for four guitars. The duo concerto arrangement is perfectly suited for guitar ensemble, as the solo content is charmingly echoed between the two lead guitars throughout the work. The CGQ skillfully keep the voices distinct and separate, heightening the impact of the imitation. The following works on the album are all modern, but cover a wide cross-section of sound palates, including extended harmony, tango, pop, and middle-eastern influences. First, "Fille de Cuivre" is inspired by a sculpture depicting a woman who is immaculate on the outside, but struggling with chaos within. The music reflects this theme with increasing degrees of harmonic and rhythmic complexity, and the CGQ draw upon their precision and enormous dynamic range to fully express the composer's vision. Next is an homage to Tangos written by another eminent Canadian classical guitarist, Patrick Roux. It highlights the compositional styles of Carlos Gardel and Astor Piazzolla, and is a thrilling and characteristic addition to the recording. The next track, "Octopus" (a play on words 'oct-opus') was originally an octet performed by the CGQ and the Salzburg Guitar Quartet. The CGQ were so impressed with the work that they arranged it for four guitars. It covers several tonal and melodic styles, taking the listener on a spectacular sonic journey. Finally, the title track "Mappa Mundi" is a striking departure from the rest of the disc as it features celebrated Canadian cellist Rachel Mercer. This powerful and awe-inspiring work that portrays four images found on a fourteenth-century map of the world. Mercer's playing and the inherent timbre of the cello compliments the CGQ perfectly, and makes a striking and unexpected finale to the disc. The CGQ have put together an album which presents their most impactful endeavours from the past several years, and is an essential addition to the guitar quartet record library.
© Timothy Smith




Canadian Guitar Quartet's Website
Buy it at Amazon.com
Listen to "Octopus"
Home | Facebook | Podcast | Archives | Submissions | Free CD Giveaway | Subscribe | About | Links
Laurence Juber, Doug Smith, Al Petteway, Phil Keaggy (and many more!) at Acoustic Music Resource