Reviewing the best in non-mainstream acoustic guitar music
Short Takes | Facebook | Podcast | Archives | Submissions | Free CD Giveaway | Subscribe | About
January/February, 2018

Richard Smith, "One Man Roadshow," 2017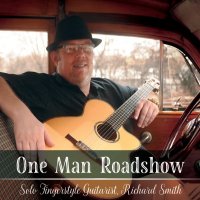 Richard Smith is one of the most versatile guitarists working today. He is best known for his solo work on nylon string guitar, but also runs his own recording studio near Nashville and performs and records with his wife, cellist Julie Adams and the Hot Club of Nashville. He's received well-deserved accolades for years from guitar greats like Chet Atkins and Tommy Emmanuel. On One Man Roadshow, he concentrates on solo instrumental performances of ragtime classics, tunes from the Great American Songbook and more. The album begins with a swinging rendition of Scott Joplin's "Maple Leaf Rag." He plays two other Joplin compositions, the reflective "Solace" and "Pineapple Rag," and another rag, James P. Johnson's "Snowy Morning Blues." His ragtime interpretations are at least as skilled and sensitively played as those of Dave Laibman, Ton Van Bergeyk, and other guitarists who mined the ragtime repertoire in the 1960s and 70s. Smith displays his mastery of solo jazz on the standards, Berlin's "Cheek to Cheek," Hoagy Carmichael's "Georgia On My Mind," and Walter Gross's "Tenderly." The paso doble "El Relicario" is equally enjoyable, as Smith employs multiple right-hand techniques to deliver a driving performance. Smith plays Jerry Reed's "East Wind," and "Mister Lucky," both of which evoke memories of the late guitarist. Smith makes them his own, playing the tunes somewhat wistfully, rather than with Reed's characteristic abandon. "Cherokee Shuffle" is played fingerstyle, including several interesting variations that wouldn't be heard in its typical bluegrass setting. "Happy Blues" is a Smith original that has elements of both post-bop and big band jazz that are perfectly suited to the guitarist's relaxed approach. Throughout, Smith's warm tone and flawless execution on nylon string yields wonderful listening. He plays two tunes, "Tenderly" and "Lulu's Back in Town," just as engagingly, on an amplified guitar. This album bears close and repeated listening, and guitarists should share it with their non-musician family and friends. Go to Smith's website or to YouTube to see more great performances and Smith's wry and entertaining stage presence.
© Patrick Ragains

Buy it here
Listen to "Maple Leaf Rag"
Listen to Richard Smith at our podcast
Christie Lenée, "Stay," 2016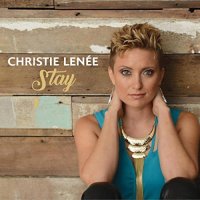 Nashville-based Christie Lenée, 2017 International Fingerstyle champion, is a triple threat as composer, singer/songwriter, and guitarist. Her 6- (and 12-) string prowess is awe-inspiring, and her compositions exploit this virtuosity, drawing on a range of styles and influences that includes classical, jazz, folk, and New Age. Her ease with the two-handed techniques of innovators like Michael Hedges and Kaki King, such as percussive tapping (using hammer-ons and pulloffs with the fretting hand while the strumming hand "taps" the strings), allows her to play bass lines, melodies, and percussive rhythms simultaneously. She also uses "The Engle," a kind of drumstick that strikes the strings, akin to a hammered dulcimer, which adds yet another sonic dimension (think harpsichord). Lenée's 2013 instrumental album Chasing Infinity (2013) is an extraordinary, breathtaking set of all-instrumental pieces. Stay, her new CD, is a significant departure, featuring vocals on five of the eight pieces. The title track, which begins and ends the album, is a plea for suicide prevention inspired by the loss of a close friend, one of three songs that feature Tim Reynolds (guitarist from Dave Matthews Band). The word "stay" shimmers and reverberates in the Intro, and the song powerfully brings home its message. Even with some dark themes, however, Lenée's songs are upbeat and catchy, her vocals exuberant and forceful, and the lyrics are uplifting, focusing on personal growth, hope, and moving on. The guitar accompaniment is tasteful and original. She saves her most intricate finger work for the instrumental pieces, all of which were recorded at Imaginary Road Studios with legendary producer Will Ackerman, founder of Windham Hill Records. Composed while Lenée was in Alaska, the music has a sweep and sense of grandeur to match that vast wilderness. "Sweet Little Piece" (played on a Gryphon Soprano 12-string guitar) features tinkling delicate treble phrases and melody bass lines interlaced with a lovely cello line by Eugene Friesen. The beautiful "Soaring over Glacier Bay" has a more symphonic essence, while "Sunset Rebirth," for which Lenée invented D #-F #-C #-F #-A#-C# tuning, and has both pop and jazz elements. Stay is a vibrant mix that is flawlessly executed, heartfelt, and assured. Lenée is a musical force of nature who is sure to make a significant mark in the world of contemporary guitar.
© Céline Keating

Buy it at Amazon.com
Listen to "Sunset Rebirth"
Listen to Christie Lenée at our podcast
Joe Bonamassa, "Live at Carnegie Hall: An Acoustic Evening," 2017

Wait, what!? Joe Bonamossa in Minor 7th? Bonamossa, the lifetime bluesman who loves to rock out, who constantly tours to arenas packed with dedicated fans, and who absolutely kills it on his Gibson Les Paul – yes, here he is, but in a somewhat different incarnation. Bonamossa is a gifted guitarist who grew up with Stevie Ray Vaughan as his idol and who opened for BB King at age 8. His technical extended soloing is a mainstay and a wonder, and he has a prolific recording history as well as a dynamic stage show. This current CD somewhat exchanges his high-energy electric blues for an all acoustic approach that includes some songs that he has previously recorded. The two-15-track collection, could be viewed somewhat as a followup to his 2013 An Acoustic Evening at the Vienna Opera House. However, the Carnegie Hall is more ambitious, as it explores a number of genres while still retaining Bonamassa's core vibe. Roots rock, country, pop, jazz, Spanish and various amalgams of all of the above receive their due, as Bonamassa widens his base as well as the ears of his stalwarts. In addition to his core musicians he brings in Tina Guo (a Chinese artist who is stellar on cello), the outstanding vocals of Mahalia Barnes and Juanita Tipping, plus the mandolin/banjo/sax talents of Eric Bazilian. Bonamassa shows his boggling dexterity on a passel of acoustic axes, including a 1972 Martin D-41, 1947 Martin 000-28, 1950 Martin D-18, 2012 National Duolian and a 1978 Gallagher Doc Watson. The overall effect is somewhat softer than his usual fare, to be sure, but not unwelcome. This approach may be toward expanding his base as much as to give Bonamossa a chance to explore new musical worlds and approaches. He seems to be having a blast throughout this double disc.
© Fred Kraus

Buy it at Amazon.com
Listen to "Mountain Time"

Pino Forastiere, "Village Life," 2017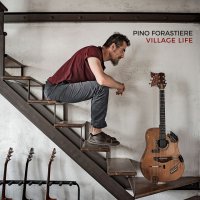 Inspired by the pace of his new life in Tivoli, a small town not far from Rome, Italian master guitarist Pino Forastiere has produced a silken masterpiece. Village Life covers a lot of ground, from prepared guitar minimalism to gorgeous clouds of chordal tapping a la Michael Hedges' "Aerial Boundaries." For those familiar with Forastiere's earlier work, the influence of Hedges is overt, as 2003's debut album, Rag Tap Boom, is dedicated "to the spirit" of the late maestro. And while Forastiere has certainly done his share of exploration--producing albums in collaboration with the Roma3 Orchestra, another in collaboration with electronica artist Sergio Altamura--this album is perhaps a bit of a departure inasmuch as he experiments with percussion, piano, and an amazing one-of-a-kind 16-string "lab guitar" that extends the horizons of what is possible on this ancient instrument. The title track is a lovely roundel, with its varying verses and repeated refrain. "Repetita luvant" is, remarkably, a cover of a tune by Italian prog rockers Ad Maiora; the cover is as dreamy as the original is percussive and driving. But so it goes with Forastiere, who ranges from folk to Medieval to New Age without ever doing more than lightly touching down to pick up a dropped feather with which to pluck a tune from the surrounding air. An album full of precision bliss, there is much to love here.
© Brian Clark

Buy it at Amazon.com
Listen to "Caos Calmo"

Gothenburg Combo, "Seascapes," 2017

"Seascapes" is the sixth musical offering by the inventive Swedish guitar ensemble, the Gothenburg Combo. The group consists of David Hansson and Thomas Hansy, both extraordinary musicians in their own right, but as a collective they redraw the traditional boundaries of acoustic guitar duos. While the two come from predominantly classical backgrounds, their music travels beyond the constraints of their formal pedagogy. Using nylon string guitars, they create lush musical imagery, featuring extraordinary ensemble playing, and virtuosic excursions. For the past 15 years they have toured extensively in their Scandinavian homeland as well as gracing stages in New York, South America, Mexico, and China. On Seascapes the two use Jules Verne's literary masterpiece, "20,000 Leagues Under the Sea," as a vehicle to construct vivid, surrealistic, imagery that explores the wonders of the vast oceanic landscape. The opening "Vanikoro" offers a nod to Steve Tibbets with industrial leanings, rich harmonics, and slightly treated guitar. On "Kuroshio" one hears echoes of Steve Reich and King Crimson as the two weave rich layers of musical tapestries. "The Red Sea" takes on a Middle Eastern vibe with sharp, dexterous single note runs and dissonant rhythmic passages. The playful percussiveness of "Birds of Paradise" precedes the pensively beautiful "A Lost Continent." "Maelstrom" contains reflective, delicate, harp-like cascading elocutions, while "The Coral Realm" showcases rapid-fire harmonics and pulsating, circular microtones. The album concludes with the intricate "Out of There Lies True Existence," featuring percussive plectrum rhythms accompanied by pianistic phrases and arpeggios. The compositions on this album explore uncharted musical territories in an accessible, listenable collection. David Hansson and Thomas Hansy redefine the parameters of what two guitars can achieve in the hands of creative and capable musicians. The Gothenburg Combo's Seascapes is an exceptional recording, alluring and experimental, virtuosic and personal, and is highly recommended for all fans of contemporary music.
© James Scott

Buy it at Amazon.com
Listen to "The Coral Realm"

May Erlewine, "Mother Lion," 2017

There are times this singer-songwriter sounds like Nanci Griffith's little sister, and May Erlewine certainly writes as well, but her voice isn't as quirky. While some of her songs lean toward folk, most are pop, with lush arrangements heavy on piano and percussion; they serve her songs well, offering a lot of space and never overpowering. Her poetic lyrics are metaphor rich, reminiscent of Patty Griffin's. The first cut, "Wild," offers appealing lyrics: "I want the dawn to break me open … I want to be wild." "Never One Thing" also showcases her words, a study of opposites: "I am the victor / I am the loss / I am a profit / I am the cost." The melody is memorable, too, and will linger with you long after it stops. In "Hurricane," she uses nature metaphors to describe her life. A light snare pushes the melody along. "Fine Line" is a beautiful study in dynamics that begins with a drum groove, then joined by piano, and finally, in the background, a stuttering guitar. There's a killer first line drawing you into the melancholy "Paint the Town" -- "Sorrow's been my lover, I'm leaving her tonight." She sings it over a delicate fingerpicked acoustic guitar. There's a similar mournful feel in "Mountain Top." It opens with a pensive piano until a folky guitar takes over. In "What You Want" she sings, ""What do you want … what do you need?" It's a question many ask toward the end of a relationship and it's never easy. "Beautiful" is about facing yourself and in "Your Heart" she sings about change. There are two pieces, "Before the Storm" and "Too Wide," that are somewhat puzzling because they're short instrumental pieces that don't offer much. It's a small complaint, though, and in some way, clears the palate for more of her intense lyrics. In "Grateful" she reminds herself (and us) that no matter what happens, in the end, give thanks. Rich gospel-like vocals come in part way through the song, bringing in a wash of emotion. If you're craving deep lyrics cradled in tasteful pop arrangements, then settle in with Mother Lion.
© Jamie Anderson

Buy it at Amazon.com
Listen to "Hurricane"

Stefan Grossman, "Buckets of Rain," 2017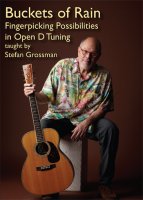 "Buckets Of Rain" is the promised follow up project to the initial instructional DVD by Stefan Grossman. The first DVD was an introductory exploration of playing blues guitar in open D tuning. Right out of the gate, I enjoyed his soft spoken, relaxed approach delving into the history of this style as well as teaching the techniques. In the first song "Buckets of Rain," he demonstrates a basic method of alternating thumb bass, hammer ons, pull offs, slides and harmonies. The video displays whole guitar shots as well as close up finger and fret views which facilitates ease in learning his ideas with no ambiguity of what to do. He also makes good use of split screen examples which are very effective and keeps the video from becoming one dimensional. I like the way he gives the student variations on each musical phrase showing that there's more than one way to do perform the song. He also demonstrates in slow motion for ease of watching intently, unlike others who would prefer to demonstrate their prowess with the lesson whizzing by followed by lengthy discussion of what just happened. The pieces progress in difficulty, teaching new subtle concepts and exploring the range of tones available and nuances that can be added to one's guitar pallet. The diversity of the other works lends toward a wide spectrum of styles that are contrasting and very pleasant versions of these songs which include "Tennessee Waltz," "Waterbound," "Como Blues" and the Beatles' "In My Life." I anticipate that this will be a continuing series of videos and I'm certain that we've not heard the last note yet. Stefan Grossman's work reflects a sincerity in his wish to help others succeed in playing well in an nontraditional tuning. He does a great job!
© Mark Bayer

Buy it at SGGW
Listen to "Buckets of Rain"

Ferenc Snétberger, "Titok," 2017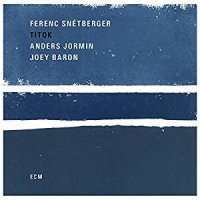 Ferenc Snetberger's Titok is the nylon stringed guitarist's sophomore recording for ECM. Hailing from Hungary, Snetberger studied classical guitar at the Bela Bartok Conservatory in Budapest. He has worked and recorded with a myriad of musical icons from Bobby McFerrin to Didier Lockwood. He is a prolific composer, performer, philanthropist, and recipient of the Hungarian Order of Merit. However, above all else he is a consummate guitarist, who mixes sophisticated, lyrical improvisations with elegant, swinging, musical phrases. On Titok the guitarist is joined by several veterans of the ECM label, Joey Baron and Anders Jordan playing percussion and upright bass respectively. Although Baron and Jordan have performed live together, they have never had the opportunity to record and this document is sure to herald future collaborations. Together the two form a sympathetic and intuitive musical backdrop to support the guitarists expressive playing. The ambitious and auspicious openers, "Cou Cou" and the title track, set the tone for the recording. Both are studio improvisations and although the pieces are spontaneously composed they are fully realized and surprisingly accessible. "Kék Kerék" is a gorgeous waltz with beautiful harmonies and wonderfully constructed melodic phrases. "Orange Tango" begins with Baron's subtle but commanding percussion, followed by the Snetberger's lyrical guitar dialoging intuitively with Jordan's upright. "Renaissance" showcases the guitarist's classical foundations exploring lute-style harmonies on his instrument. The piece also includes a wonderful pizzicato bass solo by Jordan. Baron's subtle, supportive drumming creatively enhancing the pieces without overpowering them. His imaginative use of cymbals and sparse percussive shades grace the compositions on this intimate and intricate offering. Titok is masterfully recorded and mixed in the pristine, gorgeous, reverb, that one excepts from ECM releases. This album would make an excellent holiday addition to collections of all discerning fans of contemporary improvised music.
© James Scott

Buy it at Amazon.com
Listen to "Kék Kerék"

Home | Facebook | Podcast | Archives | Submissions | Free CD Giveaway | Subscribe | About
Laurence Juber, Doug Smith, Al Petteway, Phil Keaggy (and many more!) at Acoustic Music Resource