Reviewing the best in non-mainstream acoustic guitar music
Home | Facebook | Podcast | Archives | Submissions | Free CD Giveaway | Subscribe | About | Links
January/February, 2014

Ralph Towner, Wolfgang Muthspiel & Slava Grigoryan, "Travel Guide," ECM Records 2013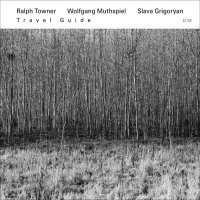 In 2005 a guitar trio with the somewhat ego-less name of MGT was born, releasing a CD on an obscure label, Material Records. Though accolades from the guitar community followed, there was poor distribution of that CD entitled "From a Dream," and it saw little of the commercial success it deserved. The three guitarists have now wisely decided to step soundly into the limelight, thankfully flaunting their names rather than just their initials: Ralph Towner, Wolfgang Muthspiel and Slava Grigoryan. The trio has also aligned themselves with a heavyweight label commensurate with their talent this go-around, ECM Records, releasing "Travel Guide" in October. Ralph Towner long ago firmly entrenched himself into an esoteric circle of exceptional jazz and classical composers for guitar, and it appears that his élan for the craft is fast rubbing off on Wolfgang Muthspiel. Muthspiel's compositions match Towner's on "Travel Guide," not only in number, but in spirit, such that each composer is difficult to identify without stealing a glance at the liner notes. The opening track "The Henrysons" comes from Muthspiel's pen, and has the same unhurried simple elegance recognizable from Towner's body of work. "Father Time," a Towner composition, is poignant especially given that Towner recently celebrated his 73nd birthday, though his creative vitality is that of a young man. The song mood is reminiscent of Oregon's "Take Heart" but the evocative chords are punctuated by a chiming tick-tock of nylon strings marking off the regrettable passage of time. "Duende," loosely translated, is the physical or emotional response to art, that which makes you smile or cry within the context of an authentic performance. The title is apt for this Towner tune, which is the second composition from his "Suite for Two Guitars" (the first being "As She Sleeps" and the second "Sarabande"; a recording of the entire Suite is apparently planned in the future by Slava Grigoryan and his brother Leonard). Muthspiel seamlessly modulates the mood from a jazz-inflected joy to a liturgical solemnity and back on his "Amarone Trio," no easy feat. The title track, "Travel Guide," is trademark Towner. Bursts of scampering double-tracked melodies proceed in fits and starts, answering the question of how to interestingly arrange for three guitars. Muthspiel's electric lines here are an offset mirror to Towner's acoustic lines, and bring to mind past collaborations with John Abercrombie. Another worthy answer incorporates Towner's inimitable 12-string sound on "Windsong" and "Die blaue Stunde", as well as to feature Grigoryan on baritone guitar. Not surprisingly, ECM has produced another masterpiece of music by trusting one of its flagship artists to bring two other very talented guitarists into the fold.
© Alan Fark



Ralph Towner's Website | Wolfgang Muthspiel's Website | Slava Grigoryan's Website
Buy it at Amazon.com
Listen to "Duende"
Pierre Bensusan, "Encore," 2013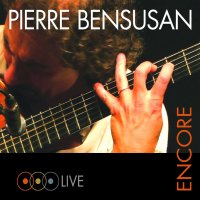 OK, first a disclaimer: because of guitarists like Laurence Juber and Pierre Bensusan, my fingerstyle guitar is always left in DADGAD tuning. I learned from Pierre that tunings aren't a limit to creating great music on guitar, but can open up new ideas about phrasing, dynamics, and voicings. So I write this review as a bit of a fan boy of Pierre Bensusan, and find myself delighted in being able to recommend this dynamic chronicle of Pierre's musical journey over the past 38 years. The 3-disc set, with a great booklet of photos and reminiscences by Pierre, is not just a compilation, but a live record of the varied musical musings that have come from this seminal force in acoustic fingerstyle guitar. If you like Pierre's music, there is nothing you won't like on this set. The fact that all these tracks are in the presence of a live audience adds a layer of vitality to Pierre's music, a life that you understand if you have heard him perform. He never totally leaves the known tune, but to varying degrees plays with it as the mood or inspiration strikes him, an accent here, a subtle phrasing shift there ("Bourree voltige" is a great example), delighting us in his uncanny ability to create beautiful music. If you love his Celtic side, there's lots to love here, including a great 10-song "Celtic Medley" of traditional tunes to close out disc two. He can play so tender and sweet ("So Long Michael", "Silent Passenger", "Intuite"), and add his unique singing voice as well ("Pas Sage" is a highlight). Disc two opens with Pierre trading licks on mandolin with banjo master Bill Keith in a bluegrass set recorded in 1975 at the Eppalinges Folk Festival in Switzerland. And on one special cut, Pierre jams with Dream Theater keyboardist Jordan Rudess on "Anthem for the Ocean," revealing his considerable improvisational skills. Three discs, 38 tracks, a lifetime of music. If you like Pierre Bensusan, then you should yell "Encore" and get this terrific release.
© Kirk Albrecht
Buy it at Amazon.com
Listen to "Nice Feeling"
Listen to Pierre Bensusan at our podcast
Foy Vance, "Joy of Nothing," 2013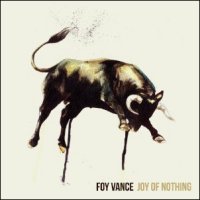 In case you forgot, acoustic guitar players can make records that sound big! "Closed Hand, Full of Friends" - the opening track on gritty-voiced, Irish singer-songwriter Foy Vance's riveting sophomore long-player retains an anthemic fervor that could send Bruce Springsteen and U2 into early (for our generation, anyway) retirement. Vance's big vision of this mortal coil and the world around him runs deep throughout the larger-than-life "Joy of Nothing" – which, as the title belies, sounds quite joyous to my ears despite the fact that the characters in Vance's songs must endure trials and tribulations aplenty. Every cut owns a sense of immediacy – which, aside from Vance's obvious passion for his craft and subjects, can be attributed to the mighty Joy of Nothing Band – keyboardist Michael Keeney, guitarist Colm McClean, drummer Hammy Hamilton, and bassist Conor McCreanor. Akin to the early Elton John albums arranged by Paul Buckmaster ("Tumbleweed Connection," "Madman Across the Water") Vance melds the orchestral and the organic as his band bashes out the tunes whilst a cadre of string players and backing vocalists embellish his lyrics and melodies with a flair for the dramatic. Among Vance's special guests include Rock 'n Roll Hall of Famer Bonnie Raitt who serves as the singer's romantic foil in a rambling tale of love and resilience in tough times entitled "You And I" (lyricists note Vance's brilliant execution of the phrase "joie de vivre" in perfect sync with the double time drum rhythm). British "wonderkid" Ed Sheeran duets with Vance on the Gospel tinged "Guiding Light" a tender, uplifting ballad which closes the album on a positive note. But don't take my word for it, be advised to check out the video documentary of Vance's album, produced by Babysweet, aptly entitled "Recording Nothing" which tells the story of this remarkable record in great detail – I especially enjoy the scene of McCreanor charting Vance's chords in mid-session– a daunting task all bassists must endure in the service of strumming guitarists anxious the record their latest composition.
© Tom Semioli
Buy it at Amazon.com
Listen to "Janey"

Scott Morris, "Phonology: The Music of Erik Satie for Guitar," 2013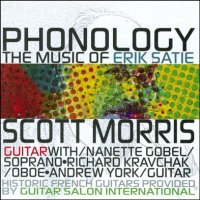 "Phonology: The Music of Erik Satie for Guitar", explores the varied and quixotic music of avant-garde French composer Erik Satie (1866-1925). Satie composed for the piano, and Morris, a concert performer and head of guitar studies at California State University, Dominguez Hills, has arranged the pieces for the guitar. Included are "Sonatine Bureaucratique," played as a duo with the incomparable Andrew York; two groupings of deceptively simple pieces for children ("Peccadilles Importunes" and "Menus Propos Enfantins"); the gorgeous "Three Gymnopedies," with Richard Kravchak on English horn and oboe, and the intricate solo works "Five Nocturnes." For another side of the composer, Morris includes two of Satie's popular songs in the mix ("Je Te Veux," and "Tendrement"), sung by soprano Nanette Gobel with the characteristic over-the-top breathiness reminiscent of what would have been heard at Le Chat Noir, a cabaret Satie frequented in Paris. On each piece Morris plays a different historically important French guitar (supplied by Guitar Salan International). On "Sonatine Bureaucratique," a Robert Bouchet (the luthier favored by Julian Bream) and a Daniel Friederich guitar were chosen for their richness and power in bringing out the bass and treble lines, while a very different sprightly quality can be heard on the Bertrand Ligier guitar used on "Peccadilles Importunes." Though Satie is without doubt an acquired taste, Morris's artistry and depth bring out the music's understated beauty, warmth, and intimacy. (A 70-page book of Morris' arrangements accompanies the CD.)
© Céline Keating


Scott Morris' Website
Buy it at Guitar Salon International
Listen to "Nocturne 1"
Sean Pinchin, "Rust Bucket," 2013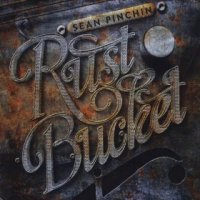 Toronto-born Sean Pinchin brings the goods – from propulsive stompers to power ballads – on his fourth solo CD, "Rust Bucket." Though just 32, singer/songwriter/guitarist Pinchin conveys a full lifetime of experiences on these 10 tracks. Pinchin, who has a writing credit on every song, shows a nice feel for the depth and extent of the modern blues genre. He's apparently earned his entrée into the realm, as he grinds out 150 shows a year. It's allowed him to hone his chops as he performs with an intensity that can only come from within. While he ably kicks it out with crowd-pleasers such as "Broke Down Automobile" and "Boo Hoo," Pinchin bares it all with the down tempo "Can't Stop Falling in Love" and the gut-wrenching "Coming Home." On the latter, his soaring guitar work is simply ethereal. In addition, the slower numbers allow him to feature his sweet, smooth falsetto, effectively juxtaposed with his rough-edged vocals. The CD is supported by several Toronto musicians, including Adam Warner on drums, Mark McIntyre on bass, Steve Strongman on guitar and harmonica, and Emma-Lee on backing vocals. The backstory on the album is that Pinchin has suffered from depression for many years, and used his pain, fear and heartache as inspiration for many of these songs. He truly inhabits this moving collection.
© Fred Kraus
Buy it at Amazon.com
Listen to "Dirt Poor Blues"
Listen to Sean Pinchin at our podcast
Mara & David, "Call it Freedom," Ozella Music 2013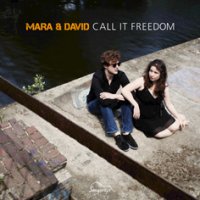 They are little manifestos, these 13 songs by German duo Mara Von Ferne and David Sick. Mara sings while David plays songs they write together, with just one exception here ("Little Lies," the Christine McVie vehicle). Plaintive, at times even strident, Mara sings as if much depends upon it-and it does in her slightly tangled emotional universe. Ani DiFranco, at moments even Björk, might be valid comparisons to give you a sense of Mara's supple voice. And for a German speaker, she uses English with an offhand authority-to wit, from "Cherry Tree:" "arms wrapped around the trunk, the taste of summer in my mouth." That could be from the pen of a younger Greg Brown. Tuck Andress and Michael Hedges might be rough antecedents to David's syncopated, sometimes contrapuntal, dropped-tuned nylon string guitar, though he's less the showman and more the studied accompanist behind Mara's emotive lyrics. The sound of Sick's guitar is more naked, less processed than we are used to hearing in the era of digital plug-in recording. It's like hearing him in the room with you rather than a dressed-up hall. And as for Mara, by turns contemplative, urgent, sultry, jagged, and innocent, she possesses a compelling voice well-suited to edgy acoustic urbanity. Standouts include "Early Morning," "Break Down," "Wanderlust," and "Glory Box."
© Steve Klingaman
Buy it at Amazon.com
Listen to "Early Morning"

John James, "Descriptive Guitar Instrumentals," 2013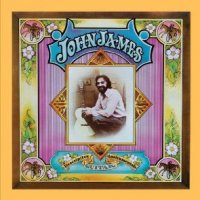 Welsh musician John James is an enigma. After becoming established in the British folk scene in the late 1960s and seventies, he gained wider attention with an album of guitar duets with Pete Berryman titled "Sky in My Pie." He recorded "Descriptive Guitar Instrumentals" in 1977 for Kicking Mule Records, which also offered a tablature book presenting seven of the solo pieces on the disc. This CD rerelease includes the original audio program and booklet. Although James was certainly exposed to Davey Graham, Martin Carthy, and other guitarists who came to exemplify the British school of fingerstyle guitar, the music on this album shows little influence from those artists. Instead, James offered listeners three aspects of his musical interests, each very listenable and entertaining. First, there is a selection of well-crafted originals, including "Trio", "Gazing High", and "You and I Across the Water". James's compositions reveal a strong lyricism and interest in jazz, emphasizing separate, precisely articulated treble, bass, and middle voicings. It seems he was most interested in presenting these solo works as compositions, rather than guitar showcases. But if you want some flash, check out his two duets with Duck Baker, "First Meeting" and "Bumpass Stomp." Both tunes are improvisational vehicles which show off James's reed-like phrasing as he and Baker trade single string lines. Of course, Duck's no slouch when it comes to hot playing, either. The third group of tunes are duets with John Renbourn. James had been playing with Renbourn around this time (there's a fine duet on Renbourn's album, "The Hermit"), and their collaboration is represented here by three very special pieces. The first of these, "New Nothynge" is actually Renbourn's "Lady Nothynge's Toye Puff" with an added high melody (James plays Renbourn's original part, while Renbourn plays the "new" part). "From the Bridge" is a slow, jazzy meditation, and "Guitar Jump" is a short, up-tempo piece featuring some nice two-bar tradeoffs between the two guitarists. While it's a shame that so few of the James/Renbourn collaborations are available, these tunes are absolute gems. John James still performs in Britain, but has rarely recorded in recent years. "Descriptive Guitar Instrumentals" remains his definitive work as an instrumentalist. I'm thrilled that it's available again and recommend it to all guitarists.
© Patrick Ragains
Buy it at Amazon.com
Listen to "First Meeting"

Home | Facebook | Podcast | Archives | Submissions | Free CD Giveaway | Subscribe | About | Links
Laurence Juber, Doug Smith, Al Petteway, Phil Keaggy (and many more!) at Acoustic Music Resource