Reviewing the best in non-mainstream acoustic guitar music
Short Takes | Facebook | Podcast | Archives | Submissions | Free CD Giveaway | Subscribe | About | Links
January/February, 2012

Andy McKee, "Joyland," Razor & Tie 2010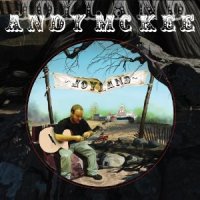 If you have listened to his music, or seen him live in concert (see the interview below), it's no wonder Andy McKee's latest release is titled "Joyland." This guy loves what he's doing with his guitars, and judging by YouTube hits, his concerts, and CD sales, people are loving it, too. McKee is an inventive modern guitarist, drawing from the palette of leading two-handed tappers like Michael Hedges and Don Ross, yet infusing his own musicality into a distinct voice on both six-string and harp guitars. As with most two-handed tappers worth their salt, McKee is able to fuse the driving rhythm of tapping with a clear melody and musical development; he doesn't just bang on the guitar and strings like some in this genre do. His songs are memorable, something to be said in this day of proliferating solo acoustic guitar music. The title cut "Joyland" features some orchestral arranging, adding a layer of depth and sophistication to his guitar parts. His fast fingers knock out a beat on "Blue Liquid," melding percussion with melody as he taps out a sweet melody. Several tunes are on his amazing Greenfield harp guitar, like "Away," where the rumbling drone of a bass note anchors the syncopation of his tapping, both adding their own rhythmic element into a cohesive whole. McKee pays homage to Michael Hedges in a very credible version of Hedges' "Layover." A highlight on this disk is the infectious, bopping "Hunter's Moon," painting images of primal forages in a lonely wood. The lovely "For Now" concludes another stellar recording by the young Mr. McKee, imparting joy to his listeners as he plays in "Joyland."
© Kirk Albrecht
Buy it at Amazon.com
Listen to "Hunter's Moon"

Various Artists, "Everybody's Pickin' on Leiber and Stoller," Solid Air Records 2011
Songwriting partners Jerry Leiber and Mike Stoller had an almost unprecedented run of pop hits, from "Hard Times," recorded by Charles Brown in 1952, to Stealers Wheel's 1972 smash, "Stuck in the Middle With You." In between, they wrote classic songs for the Coasters, Elvis Presley, the Drifters, and many others. This collection presents 15 of their most popular compositions, played with plenty of variety by Solid Air's roster of stellar acoustic guitarists. On tracks like Nick Charles' "Stand By Me," and Mark Hanson's "Kansas City," and "Searchin'" by Alex de Grassi, the intersection of the composers' classic hits and folk-based picking yields a new, yet accessible hybrid. Arlen Roth, Laurence Juber, and Elliot Easton use chicken picking, power chords, single-string leads and other rock techniques on "Charlie Brown," "Poison Ivy," and "Love Me," respectively. Also in this vein are "Love Potion No. 9'" by Al Petteway, "Bossa Nova Baby," by Greg Hawkes and "Jailhouse Rock," by Eltjo Haselhoff. Doug Smith's harmonically rich, delicate arrangement of "Fools Fall in Love" shows yet another approach for steel-string players. Wayne Johnson fuses rock, jazz, and blues on the driving "Ruby Baby. "On Broadway" is played by David Cullen in a fingerstyle jazz setting, illustrating some of the technical and tonal possibilities available on a nylon-string instrument. Mike Dowling grabs his National resonator guitar to rework "D.W. Washburn," giving us an idea of how Blind Boy Fuller might have played jazz. "Hound Dog," by Kenny Sultan, takes the listener deep into the country blues. Doug Smith and Mark Hanson wrap up the set with "Yakety Yak," played as a duet, quoting Boots Randolph and Chet Atkins, then briefly recasting the tune as a fugue before their final statement of the theme. Although Leiber and Stoller claimed that they wrote records instead of songs, these instrumental versions succeed in part because the songs are in the popular music canon and resonate strongly with the listener. This is one of the most consistently satisfying of Solid Air's tribute anthologies. Guitarists should watch for a forthcoming printed folio of the arrangements.
© Patrick Ragains
Buy it at Acoustic Music Resource
Listen to "Love Potion #9" (Al Petteway)

Les Frères Méduses, "Live at Theatre Ducourneau," 2011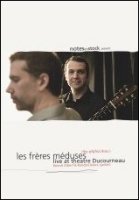 Les Frères Méduses' "Live at the Théâtre Ducourneau" is a groundbreaking DVD featuring spectacular performances by Benoît Albert and Randall Avers. Randall Avers is an accomplished American guitarist currently residing and teaching in Oslo, Norway. He is also working on a solo project featuring the compositions of ECM's hallmark artist, Ralph Towner. Benoît Albert is a French guitarist and composer who has seven recordings under his own name. He is artistic director of the multimedia ensemble "La Compagnie des Arts." Together, Albert and Avers make up the inventive and visionary Les Frères Méduses, which translates in English as "the Jellyfish Brothers." The music they create is an intricate and innovative amalgamation of chamber jazz, folk, and contemporary classical. The disc opens with the playful "Light Dry Table Wine" and "Anniversary Song" featuring brilliantly executed rhythmic counterpoints. "Lego Land" begins with Albert's percussive intro followed by interesting counterpointal improvisations. On "Noise" the guitarists explore free jazz improvisation where their intuitive interplay adds to the inherent cohesiveness of the piece. They also perform two sonic vignettes by legendary Cuban composer Leo Brouwer. The resulting "Micropiezas I and II" features the guitarists eloquently swinging with a strong Parisian feel, echoing the legendary Django Reinhart and Stephan Grapelli duets. The disc ends with Dusan Bogdonovic's dramatic "No Feathers for this Frog." Here the two create vivid Balkan landscapes, both alluring and invigorating, ending with beautifully conceived sonic crescendos. The multi-camera video production is crisp and clear, with the movement of the cameras focused on showcasing the artists' extraordinary musicianship. While the DVD only features seven pieces, the stellar performances and intriguing compositions herein are truly remarkable. This disc is highly recommended for all listeners of acoustic music.
© James Scott
Randall Avers' Website

| Benoît Albert's Website Buy their CDs at their websites
Listen to "Light Dry Table Wine"


Trevor Gordon Hall, "Entelechy," CandyRat Records 2011

One of Candyrat Records stable has opened arms to Trevor Gordon Hall, who seems capable of Michael Hedges-like twist and turns of fret prowess and ingenuity. Time will be the proof, but in the meantime fingerstyle fans are in for a treat as Hall hones, refines, explores and shares his talent. Entelechy marks Hall's 4th official release, which includes a 2009 Christmas CD. Compositionally Hall creates rhythms and grooves that intertwine melodies that are on the order of acoustic soundscapes that often have a therapeutic and hypnotic quality. "Whenever it Rains" represents, perhaps, the best example of these qualities. It is hauntingly subtle and achingly seductive. Close your eyes and you will see the rain steak down your windowpane. Curiously, it is not the guitar that brings Hall all of his notoriety; rather it is the kalimba, a type of African thumb piano that creates vibrations that are incredibly harmonious with the vibrations made by a steel string guitar. Hall explained that the kalimba has been the evolution of an idea for him tracing back to his love of music boxes as a child. He bought a basic kalimba and started messing around with it. In an attempt to increase the volume he eventual mounted the kalimba on the soundboard of the guitar -- Voilà, a unique and resonate dimension suddenly and magically enhanced his ability to weave melody. Limitations of the first kalimba attached to his guitar led to the designing of a two octave chromatic kalimba with the help from a kalimba distributor and a few builders. Hall's kalimba does not dominate Entelechy, like some of the percussive techniques occasionally push fretwork aside. The word ergonomic (if that is possible) seems to sum it up nicely. The kalimba and guitar are simply a comfortable fit. "Kalimbatar", the first track opens the CD with a pulsating groove that allows the kalimba a bit of elbow room and slides the tempo in a different direction until they eventually walk hand into the sunset. One listen -- you'll get it!
© James Filkins
Buy it at Amazon.com
Listen to "Kalimbatar"

Jeff Black, "Plow Through the Mystic," Lotos Nile 2011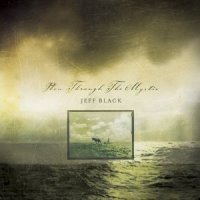 "Plough Through the Mystic," the long awaited release 5th album from singer songwriter Jeff Black, furrows into a musical landscape that is at once familiar and revelatory, offering personal introspection that cuts to the quick of the human condition. Turning the soil of the soul, his lyrics often pinpoint subtle epiphanies and wry perspicacious observations of the complexity in the human existence, both physical and spiritual. Musically, "Plough Through the Mystic" brings together elements from his previous releases but is closer in scope and tenor to his third release "B-Sides and Confessions, Vol. I" and less raucous then 2005's "Tin Lily." Not that he doesn't kick it up -- "Happiness", "Sorry" and the title track certainly get the toes tapping. One listen to "Immigrant Song," and you will get a taste of the power Black commands in his live shows. In fact, evidence of that live spark permeates this CD. The production of "Plough Through the Mystic" has a crystal quality that accents the immediacy of the music performed here. Yet, there is more grandeur than a living room experience and every bit of that in-the-moment-ness achieved in part by a voice that offers a honeyed raspy John Prine-honesty-to-the-core. The acoustic vibe is paramount with Black's acoustic bass playing providing a strong heartbeat through many of these tracks. Black's skill on banjo is a nuance that shines through as does the fret work of Jerry Douglas and mandolin savvy of longtime Black conspirator and collaborator Sam Bush. Each instrument seems to find a sonic nook that allows the whole to breathe. Once again Black surrounds himself with talent that transcends the music machine that Nashville epitomizes, to create music of a genuine, unaffected nature. Gretchen Peters and Matarca Berg make cameo appearances in the powerful "Sorry" and Kim Richie lends her voice to "Run". Black has always seemed to me to be a somewhat enigmatic and paradoxical artist. At once prolific and methodical. It took six years to release this collection of songs, while releasing many side projects and 'Black Tuesdays' podcasts in the interim. His songs have been covered by artists of likes of Waylon Jennings and Alison Krauss, yet he exists below the radar of fame. He falls into that rare category of tunesmiths (think Bill Mallonee) that can strike a vein and mine it for gold at depths that other artists simply cannot. There are artists out there that can cut through the dissidence that fills our days reminding us that every once in awhile we just need to exhale. Witnessing Jeff Black perform "Sunday Best" back in 2004 taught me that.
© James Filkins
Buy it at Amazon.com
Listen to "Walking Home"
Listen to Jeff Black at our podcast
Vin Downes, "What Falls Away," 2011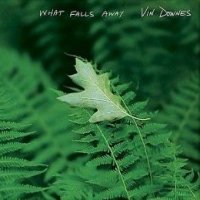 Short on length at only a bit more than 32 minutes, Vin Downes' latest solo CD, "What Falls Away" nonetheless brings an enjoyable listening experience throughout its 9 tracks. Downes is a good fingerpicker, with a solid understanding of what makes a good song good. He keeps us anchored to the melody while exploring the aural dimensions that multiple fingers allow up and down the fretboard. We don't get any modern techniques like two-handed tapping, just straight ahead fingerstyle guitar. The title cut "What Falls Away" is played on nylon string, a gentle dance that suggests what falls away may still have life. Maybe the most challenging piece on this CD is the contrapuntal "Under Sail and Star," with a deft mix of chord and sliding melodies. The longest cut is "Longfield and Cattails." Moving through the familiar A-B form, Downes calls and answers in various ways while returning us to the center of the melody. "Seeing Through" has some shades of early Chris Proctor playing and writing, a fine lyrical piece. The final cut "Running Fences" has some qualities of a rag, but breaks out of that style as the treble line undulates from phrase to phrase. While Downes won't blow anyone away with mind-altering playing like a Tommy Emmanuel or Laurence Juber, "What Falls Away" is simply a CD of fine acoustic guitar music.
© Kirk Albrecht
Buy it at Amazon.com
Listen to "Seeing Through"
Listen to Vin Downes at our podcast
Doug Young, "Closing Time," 2011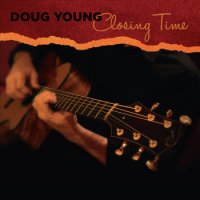 From the first notes of Doug Young's "Closing Time," listeners will feel embraced by the mellow warmth and good fellowship to which he pays tribute ("The Gathering," for the Swannanoa Gathering, an annual musical event that takes place in the Appalachian Mountains). Young's exceptional clarity and fingerstyle finesse call to mind Laurence Juber, Leo Kottke, and John Renbourn and other greats, but the sensuousness of his tone is second to none. This rich and varied collection of guitar solos and duets (on which Young plays both guitar parts) includes traditionals, like the lovely "Wildwood Flower, with gorgeous artificial harmonics; compositions with Celtic influences, like the haunting "The Month of January;" and uptempo show-stoppers, including "Curly Q," with it many twists and turns. "Elephant Dance," a bluesy-jazzy "dance" between baritone and resonator guitars, began with "a leftover bass line" for an article Young wrote for Acoustic Guitar magazine, where he is an editor. Fellow AG editor Teja Gerken came up with the second guitar part on "The Seagull," and Young involves other guest musicians, including John Begley on mandolin and Laurel Thomsen on violin. Given Young's exceptional skill and assurance, it's shocking to learn that this is only his second release. But compositions this good take time. The last song on the CD, "Closing Time," is a complex, moody evocation of late nights at a club or bar, with patrons who can't tear themselves away. Listeners won't want to either: Though exquisitely satisfying, this CD nevertheless leaves you hungering for more.
© Céline Keating
Buy it at Amazon.com
Listen to "Wildwood Flower"

Vance Gilbert, "Old White Men," 2011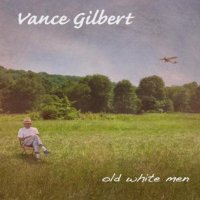 Damn you, Vance Gilbert! Isn't it enough that you humble me as a performing songwriter whenever I see you? Then you put those talents on a record I'm professionally compelled to listen to over and over? You have complete command of the guitar ("You Should Be Here"). You move fluidly between genres: contemporary folk ("Go," and the inscrutable "Dragonfly Wings" that sent me to Wikipedia to learn about the title insect); swing ("New Year's Day…" where you demonstrate how to inhabit a character); soul ("King of the Rails," think "If You Don't Know Me At All"); and jazz almost everywhere. You sing like an angel (check out the a cappella "The Brakeman's Son," especially the falsetto) molding your voice to each tune. You even do the most creditable male Billie Holiday this side of David Sedaris ("My Bad") making it one of the most provocative numbers on a CD filled with provocation. Like the title "Old White Men." Then you surprise us with a sensitive portrait of an awkward child and his relationship with the persnickety handymen I recognize from my own youth. Later, that child becomes an angry black activist who eventually becomes an old white man himself (listen, and you'll understand). That child, young man, and middle-aged guy remind me of you. And I want to be able to write that the album is confessional and thematically unified because that's my M.O. as a reviewer. Is that your "butt crack" in the driving "Helpless Man?" But you won't let me put it all together even though you drop enough hints: like the opener's portrait of a shy boy's crush ("Boy on a Train"); then the train imagery on three other tracks; then the snippet from the opener after the CD ending revelatory cover of "Sara Smile." Gilbert, is there anything you don't do well? Well, there was that interpretive dance on stage at the Common Grounds Coffeehouse...
© David Kleiner


Vance Gilbert's Website
Buy it here
Listen to "Dragonfly Wings"
Tom Feldmann, "DVD: The Gospel Guitar of Mississippi John Hurt," Stefan Grossman's Guitar Workshop 2011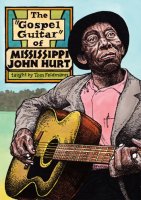 There's something transcendent about Mississippi John Hurt's music. The simplicity, power, and gentle precision of his style, whether playing gospel classics, such as "Do Lord Remember Me" or murder ballads like "Stack O'Lee," are unparalleled in the blues archives. Though Hurt may be better known for his blues than his gospel, it's really quite difficult to separate the two; his blues are infused with gospel and his gospel infected with blues. Hurt had his own very personal style and it permeated all the music he played. In the opening moments of this instructional DVD, Tom Feldmann describes his own experience upon first listening to John Hurt. Having previously immersed himself in the grittier styles of Lightning Hopkins, John Lee Hooker, and Muddy Waters, the music of John Hurt offered Feldmann a new vista on the blues. Mississippi John Hurt's music, Feldmann notes, is perfect for the novice fingerstyle guitarist. But the truth is these humble guitar pieces would bring joy to pickers on any level of expertise. It's just great music and great fun to play. And Feldmann, a gentle guide whose personality and approach reflect his subject, has that style down. He takes you step by step through the gospel classics "Do Lord Remember Me," "Since I Laid My Burden Down," "Nearer My God to Thee," the powerful "Mary Don't You Weep," and many others, all in the familiar keys of G, C, E, and D. There are nine songs altogether. Two added and absolutely essential features to the DVD are a PDF of all the tabs and the original recordings of the songs. "The 'Gospel Guitar' of Mississippi John Hurt" is another superior product from Stefan Grossman's Guitar Workshop.
© Chip O'Brien


Tom Feldmann's Website
Buy it at Stefan Grossman's Guitar Workshop
Listen to "Do Lord Remember Me"
Cecilio Perera, VGO Recordings 2011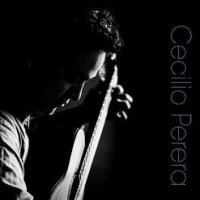 Cecilio Perera has established himself as one of Mexico's leading concert guitarists. Following his success at several competitions nearly a decade ago, he has been recording and performing regularly across the globe. His most recent CD release is a unique blend of British and South American music. On the British side, Perera presents two major works: the "Five Bagatelles" by William Walton, and "Nocturnal" by Benjamin Britten. Both are extremely demanding compositions, both technically and interpretationally. These pieces highlight Perera's maturity, as he narrates them with a steady and reflective tone. He then uses this solid benchmark as a platform from which he leaps musically as the works become ever more emotionally obtuse. The South American pieces Perera selected are written by two equally influential composers, Leo Brouwer and Alberto Ginastera. The Brouwer "Nuevos Estudios Sencillos" are a series of very short studies, each dedicated to a famous composer. Not only do these studies work well as a whole, contrasting and complimenting each other, they also pair nicely with the large and complex works that make up the rest of the disc. They offer Perera an opportunity to showcase his broad musical palate, and further establish his technical proficiency. Finally, the Ginastera Sonata acts to bring all of the elements of the disc together in one dramatic summary. The Sonata blends the South American passion of Brouwer with the learned compositional style of Walton and Britten. On this disc Perera has compiled a powerful and emotionally complex set of works that will appeal to any classical music aficionado.
© Timothy Smith
Buy it at Amazon.com
Listen to "William Walton - Allegro Assai (from Five Bagatelles)"

Short Takes | Facebook | Podcast | Archives | Submissions | Free CD Giveaway | Subscribe | About | Links
Laurence Juber, Doug Smith, Al Petteway, Phil Keaggy (and many more!) at Acoustic Music Resource