Reviewing the best in non-mainstream acoustic guitar music
January/February, 2010

Jimmy Wahlsteen, "181st Songs," CandyRat Records, 2009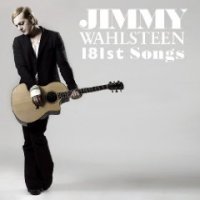 This CD of original instrumentals from Sweden's Jimmy Wahlsteen is a departure from Candyrat's usual solo guitar fare. Although Wahlsteen's acoustic guitar playing is central to every track, he's accompanied by percussion, strings, bass, and horns in various combinations throughout the program. And yes, he adds lots of multitracked acoustic and electric guitars, too. The opening track, Shifts of Attention," includes guitars and hi-hat, is rhythmically infectious and a great piece to draw in the listener. "It's Your Favorite" is a fine example of his ensemble approach, with a main fingerstyle track, overdubbed high parts, tapping, and cello, violin, and viola both echoing and extending the basic guitar part, which falls somewhere in between James Taylor and Ed Gerhard in compositional style and tone. The following piece, "Rapid Eye Movement," is fast-paced and includes shimmering electric guitar, which adds tonal variety. "Suffice to Say" is all Wahlsteen, in this case at least four separate acoustic and electric tracks. An ensemble approach gives Wahlsteen more options for developing intensity and contrasts, which he uses to provide tasteful results. The pieces here resemble songs; many have strong melodies, while others have a catchy rhythm; this may show Wahlsteen's studio experience rubbing off on him. Additionally, it may suggest a future direction for Wahlsteen, already a promising and versatile artist.
© Patrick Ragains

Buy it at Amazon.com
Listen to "Rapid Eye Movement" (mp3)
Listen to Jimmy Wahlsteen at our podcast
Kalkan, "Planet Kalkan," Acoustic Music Records, 2009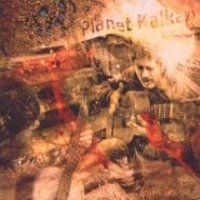 Kalkan is a not just a historic fishing village on the Mediterranean coast of Turkey, but is also an extremely innovative guitar duo featuring Erkin Cavus and Reentko Dirks. Together the two have already composed several soundtracks for documentaries and received awards at international music festivals. Their premiere release "Planet Kalkan," features a captivating synthesis of Spanish, Middle Eastern, Rock, Folk, and Jazz styles resulting in music that is both unique and accessible. Erkin Cavus studied for nine years at the Istanbul Conservatory, and currently uses a double neck guitar, which allows him to play both regular and fretless. Reentko Dirks began the guitar at seven, after initially wanting to play drums, ultimately culminating his studies in World Music in Dresden. While most guitar duos of this nature showcase plenty of virtuosity, many fall short in the area of true creativity. Kalkan avoids this pitfall by creating beautifully conceived and executed sonic paintings highlighted by imaginative and masterful playing. Both artists add creative percussion throughout the album using traditional, frame, and washing machine drums. Their innovative use of percussive effects helps fuel each of the soloist's inspired improvisations and adds depth to the lush compositions. The release features an intelligently sequenced collection of alluring originals, traditional ballads, and eclectic covers. The album begins with "Jerusalem Syndrome" an impressive original composition with sparse introspective lines followed by rich, dense, percussive crescendos. There is a haunting reconstruction of Led Zeppelin's classic "No Quarter," which in many ways surpasses the original ephemeral recording. They also offer an intuitive reading of Ennio Morricone's "Love Theme from Cinema Paradiso" capturing the essence of this bitter sweet ballad. This exceptional recording closes with "Ah dir atas ver," a gorgeous piece based on a traditional Turkish folk song. "Planet Kalkan" is an exceptional release by a duo that is sure to be at the forefront of acoustic music for decades to come. The two create enthralling cinematic landscapes colored with fiery, introspective, improvisations. Erkin Cavus and Reentko Dirks redraw the boundaries of World music by expanding the barriers far beyond their Turkish homeland. This recording is highly recommended for discerning fans of contemporary instrumental music.
© James Scott


Kalkan's Website
Buy it at Amazon.com
Listen to "Yogi Tea" (mp3)
Laurence Juber, "Wooden Horses," Solid Air Records, 2009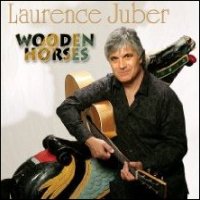 Few followers of modern acoustic fingerstyle guitar music remain ignorant of Laurence Juber's amazing playing. The two-time GRAMMY winner is best known for his use of DADGAD tuning, and on "Wooden Horses" uses it to good effect, but half of the songs are in standard tuning, allowing Juber to explore other sonic pathways. Several songs, like "Guitar Noir", appear earlier in his discography, but their inclusion on "Wooden Horses" is welcome nonetheless. As with every Juber recording, the playing is tantalizing with his signature hooks and chord voicings. But there is another dimension on this CD that seems fresh and new, as on "The Crow's Nest," a lovely re-working for solo guitar of his "Magellan Suite" from 2000. The romantic "Being Here With You" sounds like something he would play seated across from his wife Hope on a quiet afternoon, life partners locked in a visual and aural embrace. Stylistically, Juber roams all over the map, from the swingin' "Maple Avenue Strut", to the delicate "The Ornament Waltz", to the O'Carolan standard "Sheebag & Sheemor", to the title track, where he gets into a ragtime spirit. Perhaps my favorite tune on the CD is "Rufus", equal parts playful and dark, layered over an infectious bass groove. What "Wooden Horses" shows above all else is a player who can do it all with equal power, prowess, and grace. Laurence Juber is a guitarist in full command of the fingerboard. After a dozen acoustic offerings, Juber's music never ceases to inspire.
© Kirk Albrecht


Laurence Juber's Website Buy it at Acoustic Music Resource
Listen to "Maple Avenue Strut" (mp3)

Roland Dyens, "Naquele Tempo: Music of the Brazilian Master Pixinguinha," GSP Recordings, 2009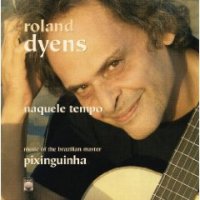 While studying at the Ecole Normale de Musique de Paris, Roland Dyens was leading a double life. As he describes in the liner notes, he was a devoted young student of the classical guitar but on the side was absorbing the lyrical melodies, arrangements, and syncopations of the popular music of Brazil -- music composed and performed by a generation of musicians inspired by the great Pixinguinha (pish-in-GUI-nia), often called the Cole Porter of Brazillian music. Born Alfredo da Rocha Vianna, Jr. in the late 1800s, Pixinguinha embraced and transformed the choro in the early part of the twentieth century, and ultimately became his country's musical ambassador. He was a master composer, arranger, instrumentalist, band leader, and teacher. It was in 2007, during a Master Class in Lisbon, that a chance performance of a Pixinguinha choro reawakened Dyens's long dormant love for Brazillian popular music and inspired the solo guitar arrangements featured on "Naquele Tempo." Dyens has arranged and performed these Pixinguinha classics with a master musician's deep insight and skill. There is passion on every track, particularly on the lovely "Rosa" and the haunting "Carinhosa," as well as on the more up-tempo "Desprezado." There is sheer joy and humor in "Gargalhada" which begins with Dyens's utterly convincing guitar mimicry of a snare drum. But most of all there is love. An incredibly artistic and dynamic player, Dyens caresses and shapes. He paints with subtle brush strokes and again with broad swaths of color. It is difficult to believe one is listening to the music of a single guitar and a single composer, which together transcend categorization and label.
© Chip O'Brien


Roland Dyens' Website Buy it at Amazon.com
Listen to "Ingenuo" (mp3)

Gabriel Szternsztejn Quartet, "Cosas Sin Decir," 2009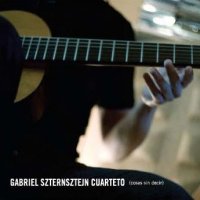 Remember the last time you heard a record that left you speechless? The title of this modern acoustic jazz collection suitably translates as "Things Without Saying." Fleet fingered Argentinean guitarist Gabriel Szternsztejn and his equally nimble quartet (consisting of Jorge "Jato" Cerrato on six string electric bass -- the only voltage enhanced player, drummer Jose San Martin, and Geronimo Garcia on piano) have rendered a breezy and enjoyable record that will have great appeal to fans of the Pat Metheny Group, John Abercrombie's Gateway (with Jack DeJohnette and Dave Holland), Egberto Gismonti (who once praised the young Szternstejn ) and the "modern creative" works (think elements of free jazz incorporated into a structured song form) of Bill Frisell. Akin to these world renown guitarists and their respective ensembles, Szternsztejn's upbeat brew of post-bop, contemporary, and folk jazz displays great musical depth in addition to exuding a healthy dose of crossover appeal (that is, people who don't normally listen to jazz will dig it!). Szternsztejn's laundry list of influences include such diverse artists as David Gilmour, Miles Davis, Brian May, Andy Summers, Bill Evans, the Beatles, and Weather Report -- all of whom, incidentally, carved their legend by working in a cooperative team setting of (relative) peers. This suits Szternsztejn and his posse quite well -- no one player emerges as a star on this disc. Yet don't despair jazz-ers, there are plenty of opportunities for the individual players to shine. Witness Cerrato's growling, funky lower-register bass (a reminder to get electric bass back on the progressive jazz bandstand) in "Hablemos Tranquillos" and his cerebral, dreamy solo in "Despertar." Drummer San Martin evokes comparison to the great Paul Motian with cymbal work that brims with color and texture- -especially atop the rollicking rhythms and time changes of "Cosas Sin Decir." Garcia and Szternstejn are indeed a match made in improvisational heaven, as they initiate and conclude each other's musical dialogue with fluid lines and translucent exchanges. Then again, some things are better left unsaid...
© Tom Semioli


Gabriel Szternsztejn's Website

Buy it here
Listen to "Despertar" (mp3)
Listen to Gabriel Szternsztejn at our podcast
Todd Hallawell & Robin Kessinger, "Ear Candy," Soundset Recordings, 2009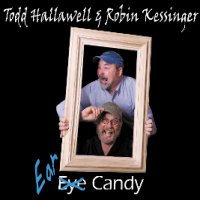 Two National Champion guitarists discover a common playground over the course of 13 sparkling instrumentals on "Ear Candy." Todd Hallawell, classically trained, and noted more for his fingerstyle technique, focuses here on his flatpicking as he joins fellow flatpicker Robin Kessinger in a rollicking set of steel-string duets. This musical project evolved over the course of about three years and was produced by Soundset Recordings, where Hallawell is co-owner. While Kessinger commands the right channel, and Hallawell the left, it is immediately clear that both of these high-energy virtuosos are on the same page musically, artistically, thematically, tonally. That's no mean feat considering the complexity of some of these deceptively simple and infectious folk tunes. Joined by acoustic bassist Duane Webster, it's a marvel how smooth the transitions are from one guitarist to the other, especially on the dazzling "Dizzy Fingers." The two veteran performers freshen up Joplin's "Maple Leaf Rag" and have a bit of fun with "Davy Jones Hornpipe." Other traditional tracks include the reflective "Eleanor," "Elzic's Farewell," the busy "Harvest Home" and "Vinton's Hornpipe." They venture into eastern European territory with "Russian Rag" and perform one of Kessinger's compositions as well as a song written by his great uncle, fiddler Clark Kessinger. A few years ago, Hallawell was asked his thought regarding solo vs. duet performances. In response, he said something along the lines of, "What I like about music is hearing people play off one another. I already know what I can do. It's a lot more fun to be a part of something bigger." He certainly follows up that philosophy with this enjoyable collection.
© Fred Kraus


Todd Hallawell's Website | Robin Kessinger's MySpace Buy it at CD Universe
Listen to "Dizzy Fingers" (mp3)

Larry Murante, "Point of Entry," 2009

I review a lot of CDs and if I kept them all my house would sag under the weight. This one I'm definitely keeping because damn, it's good. His refreshing folk-rock will never weigh you down. Every song is an engaging story with clever and meaningful words. The mostly acoustic arrangements -- his percussive guitar always up front -- are tasteful and never overbearing, showcasing his warm vocals well. If you're a fan of artists like Jackson Brown, John Gorka and Bruce Hornsby, you definitely want this disc. It opens with "Paul's Song," about a guy who paints an American flag on his garage but it's not what you think 'cause "He looks kinda right but he's on the left and he's better in the middle." Murante is great with witty observations like that and they're scattered throughout this release. Remaining open to the possibilities is the theme in "Point of Entry" - "'Cause you never know when the old man's gonna share a little wisdom... Or when the mortal enemy is gonna lay down their weapons..." Amen. Most of his songs have a positive outlook so "You're So Smart" provides a magnificently bitter contrast. In it, he chronicles a conversation with a friend who saw the demise of his relationship before he did. Hey, when you get dumped for "Subaru Boy" you need to vent. I'm loading this one on my MP3 player and no, you can't have this disc. I highly recommend that you buy your own.
© Jamie Anderson
Buy it at CD Universe
Listen to "Paul's Song"

Home | Links | Podcast | Archives | Submissions | Free CD Giveaway | Subscribe | About
Laurence Juber, Doug Smith, Al Petteway, Phil Keaggy (and many more!) at Acoustic Music Resource
Buy Instructional and Biographical DVDs and Books at


(Click on image below to buy)
| | |
| --- | --- |
| Laurence Juber DVD: Understanding DADGAD | Roland Dyens - "Night & Day" Transcriptions |