Reviewing the best in non-mainstream acoustic guitar music
Home | Facebook | Podcast | Archives | Submissions | Free CD Giveaway | Subscribe | About | Links
September/October, 2017

Mike Dawes, "Era," 2017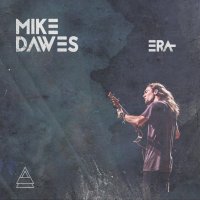 Do yourself a favor and check out Mike Dawes absolutely killing it on "One," his cover of the 1988 Metallica hit on YouTube. Dawes, a fingerstyle guitar virtuoso, features "One" as the first single from his sophomore collection, Era, following his popular debut CD on Candyrat Records. It's not especially surprising it took Dawes four years to get Era out, as he has been touring quite steadily. His touring work includes performing alongside Justin Hayward, the legendary frontman of The Moody Blues. Era features 10 tracks – seven originals and three covers. The pristine production stunning, lets you experience every every tap, pluck, slash, slide -- just every bit of marvelous work this 27-year-old Brit packs into some remarkable arrangements for solo guitar. While the collection is aurally pleasing, some video viewing is suggested, as even the most casual fan should see Dawes at work: watching those chameleon fingers spider across the fretboard, creating polyrhythms intertwined with lightning leads and powerful percussive thumps, raps and flicks. One man plus one instrument equals a quadrilateral equation of sound. Other tracks include a cover of John Mayer's "Slow Dancing in a Burning Room," the delicate "Encomium (Reverie)," and "Belle Insomnie," which, like most of the CD's tracks, is completely live. Of particular interest is Dawes' arrangement of "Scarlet," a cover of Periphery's metal romp. Dawes' interpretation focuses on the beauty of the melody of the song, giving it a new reading. Liner notes provide the tunings for each of the tracks, as well as whether the tune was flat or fingerpicked, or whether there was live looping. It's all pretty great stuff from this young and focused artist.
© Fred Kraus

Buy it at Amazon.com
Listen to "Overload"

Eos Guitar Quartet, "Live," 2017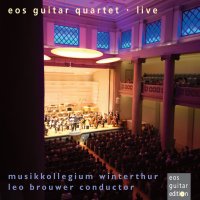 A fine classical guitar quartet playing the music of two of the most brilliant composers for classical guitar in the modern era – sounds like the recipe for a breathtaking musical experience. "Eos Guitar Quartet Live" is just that – filled with crisp, lyrical playing, seamless parts, and inventive compositions. The quartet is: Julio Azcano, Marcel Ege, David Sautter, and Micheal Winkler, based in Switzerland. The disc contains just two pieces: Leo Brouwer's "Gismontiana," which is Brouwer's exploration of themes from the music of the famous Brazilian composer Egberto Gismonti, and "Confluence," by Ralph Towner. But don't be fooled – the recording is 55 minutes of complex yet inspiring music. The piece by Brouwer was recorded live with the Musikkollegium Winterthur, conducted by the composer himself. The opening movement of "Gismontiana," is Brouwer at his most skilled – dense chords that drive the tune, while the orchestra complements and introduces the underlying melody. The third movement entitled "A Fala de Paixao" leads with a single guitar playing a gentle melody line, then joined by the other guitarists and the orchestra, a magical, flowing movement that enchants the listener, shifting subtly to other themes, then returning to the main melodic idea. The next movement, "Cadenza," is just that in the spirit of classical music – a section where the guitarists explore all kinds of ideas, revealing the command of their instruments. The American guitarist/composer Ralph Towner has been a prodigious creator of intricate, sometimes dense, and usually challenging music. His "Confluence" – a world premiere commissioned performance on this record – is just three movements: "Waltz," "Slow," and "Allegro." "Waltz" is a brilliant exploration of that form, though I would find it difficult to keep in step during some sections that move freely in and out of that rhythm. "Slow" takes the listener on a semi-minimalist journey, repeating key phrases that drive the movement in a hypnotic stillness. The CD and this composition end in "Allegro," marked by rapid sections of arpeggios that whirl and tumble. It is an ecstatic conclusion to an excellent tribute to two giants in the world of guitar composition, played by four men who are masters of their instruments.
© Kirk Albrecht

Buy it here
Listen to "Confluence - Allegro"

Antonio Monti, "Island," 2017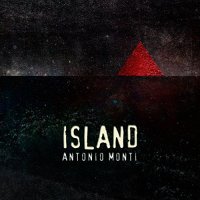 Antonio Monti's Island is an intimate and eclectic collection of contemporary acoustic guitar compositions. Monti grew up on the island of Ischia, located off the coast of Naples, Italy. In his early twenties, the guitarist moved inland to formally study music and the guitar, eventually settling in Milan, where he embraced a variety of musical styles. However, after hearing Michael Hedges' groundbreaking recordings, Monti changed his musical direction to focus exclusively on the harmonic intricacies of the acoustic guitar. While Hedges' ubiquitous style profoundly influenced Monti's playing, the Italian guitarist has developed his own unique and expressive musical voice. He soon began playing festivals and clubs throughout the Continent, and in 2014 moved back to his beloved Ischia. Island is inspired by and dedicated to the inherent beauty and solitude of his native isle. The tracks on the recording are equally divided between reflective solo acoustic pieces and ambitious, complex compositions featuring prepared guitar and loops. The opening "This Land" showcases rich layers of two-handed tapping, dramatic repetitive phrasing, and lush harmonic flourishes reminiscent of Steve Reich's seminal minimalistic works. On the pensive "Silver Sea" one hears a delicate balance between melodic single note themes and deliberate fingerboard harmonies. The joyous cacophony of "Hidden Activity" is delightfully quirky with Monti employing processed guitar, percussive textures, and ebowed embellishments. "Wild Tales" marches through a myriad of formidable themes and stratified textures with dramatic shifts in time. Monti is not afraid to use silence within the parameters of his music to punctuate his intense and sonorous statements. The delicate and introspective "Di Vino, di Mare, E di Zolfo" ends this extraordinary compilation of imaginative compositions. The album is vividly recorded, mixed and mastered by visionary guitarist Pino Forastiere. Island is an impressive recording with alluring compositions executed with meticulous precision and is highly recommended for discriminating listeners of contemporary music.
© James Scott


Antonio Monti's Website


Buy it at iTunes
Listen to "This Land"
Listen to Antonio Monti at our podcast
Emma Rush, "Canadiana," 2017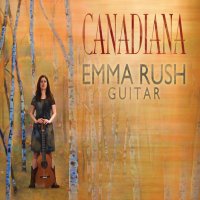 Emma Rush, a Canadian classical guitarist, plays with great sensitivity and gorgeous tone on her second solo album Canadiana. The collection of folk songs from iconic Canadian songwriters Joni Mitchell, Gordon Lightfoot, and Stan Rogers, and an instrumental composition by Toronto-based composer William Beauvais, show off her stunning technique and Floyd Turner's artful arrangements. Classical versions of pop and folk can tend toward the treacley, but with these renditions Rush finds the heart of each piece and, while capturing its essence, both complicates and deepens it. Listening to the original songs up against the classical versions reveals the mastery at work. For instance, Rush captures the haunting quality and colors of Michell's vocals on both "Blue" and "Marcie." Mitchell accompanies her vocals with only a piano on "Blue," and that intimacy is conveyed by Rush both by the tenderness and delicacy of her playing and by her restraint in using the range of the classical guitar without over-embellishing. On Lightfoot's sweet "Pussywillows, Cat-tails," she slows the tempo and heightens its moodier edges. Her version of his iconic "Canadian Railroad Trilogy" turns the peppy, mostly strummed folk version into a more somber and intricate piece although, like the original sung version, she employs tempo changes that mimic the speeding train. The Celtic-inspired "Northwest Passage," by Stan Rogers is sung a cappella, anthem-like. Rush echoes this directness and simplicity by playing lines of unadorned single notes. Something about the clarity of tone and the authority she conveys captures the majesty of Canada evoked in the song. Perhaps most impressive, from a technical playing point of view, is Beauvais's magnificent "Appalachian Colours," a mini-symphony in four parts ("Gold," "Red," "Green," and "Blue he dedicated to Rush. As with the other pieces on this CD, "Gold" and "Green" are tender and soulful, highlighting Rush's ability to tease out textures and colors. With the intricate "Red" and the bluegrassy virtuostic "Blue," more of Rush's range and virtuosity are revealed. On Canadiana, it is clear why Rush is considered among Canada's finest up-and-coming classical guitarists.
© Céline Keating

Buy it at Amazon.com
Listen to "Blue"
Listen to Emma Rush at our podcast
New Latitude, "Vantage Point," 2017

Denver's New Latitude builds their contemporary instrumental music around the acoustic guitars of Dave Erickson and Jim Carr. They're responsible for the production and arrangements, as well as the compositions (Erickson contributed the lion's share with eight; Carr wrote three). They compare themselves to Acoustic Alchemy, the California Guitar Trio, and Dominic Miller; their eclectic, melodic writing also calls Oregon to mind at times. Erickson's sprightly "Springtime" opens the set, employing mixed meters--a striking element common to many of these tunes--in 9 for the opening, moving into 6. As the title implies, "Five Mountain Dance" is in 5, moving into 6 again. In addition to the core rhythm and lead guitar parts this one also has overdubbed harmonized guitars. Overdubbing was used sparingly, but there can be as many as four additional parts in places--a sonic treat for anyone who enjoys hearing multiple guitars. "Halcyon Days" manages to sound like a waltz, despite being in 5; and Carr's "Birds of Prey" has an accent structure that belies its common time. Drummer Dean Kuhl's conga and percussion lend a Latin color to "The Journey," which also features a bit of wordless vocalizing from bassist Robert Strickland. Beautiful composing and playing here: a vantage point worth taking.
© Mark Sullivan

Buy it at Amazon.com
Listen to "Bend The Curve"
Listen to New Latitude at our podcast
Robin Bullock, "The Carolan Collection," 2017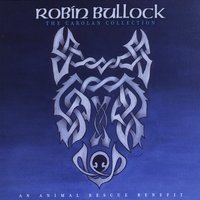 The Carolan Collection from guitar, cittern and mandolin virtuoso Robin Bullock is a sonic tapestry of finely woven harp tunes from the catalog of the 17th Century Irish composer Tourlough O'Carolan. No knowledge of O'Carolan or an Irish heritage are requisite for experiencing the pure joy that Bullock creates in these performances culled from seven previous releases. Originally released as a fundraiser in 2015, The Carolan Collection is now available everywhere with profits going to the Brother Wolf Animal Rescue in Asheville, North Carolina and Full Moon Wolfdog Rescue and Sanctuary in Black Mountain, North Carolina. The first four tunes prepare the listener for the breadth of the 16 tunes offered here. "Thomas Burke" begins the CD with a playful, quick tempo that accentuates Bullock's nimble fretwork and pristine phrasing. Track two, "Carolan's Quarrel with the Landlady," taken from 1998's Between Earth & Sky CD, continues the playful fretwork but brings melody to the foreground, which is reinforced by mandolin at the half waypoint. Next its a spirited version of "Hugh O'Donnell," bursting with a melody that blossoms again and again, organically and seemingly endlessly. At time it has the feel of a duet, but that might just be Bullock's magic fingers at work. With track four, "Bishop John Hart," from his 2005 Enchanted Woods CD, we are swept away in a slow, mellow, luscious and tender ballad that washes away care and touches a melancholy chord, satisfying musically as only an Irish ballad can. Every tune here is a highlight, more so than a greatest hits or best of collection because of a sort of musical organicism. Even if you own all of Bullock's CDs, you will find this collection of recordings fit together the way that old favorite quilt induces the perfect nap on a cold winter's day. The many accolades that Robin Bullock has accumulated over the years are the direct result of an artistry, craftsmanship and talent that transcends time. How fitting that he would have the vision to pay tribute to what many feel was the greatest of the Irish bards. The Carolan Collection is a sonic treasure.
© James Filkins


Robin Bullock's Website
Buy it at Amazon.com
Listen to "Hugh O'Donnell"
Home | Facebook | Podcast | Archives | Submissions | Free CD Giveaway | Subscribe | About | Links
Laurence Juber, Doug Smith, Al Petteway, Phil Keaggy (and many more!) at Acoustic Music Resource