Reviewing the best in non-mainstream acoustic guitar music
September/October, 2009

Various Artists, "Poppin' Guitars," Solid Air Records, 2009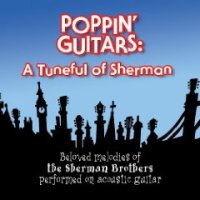 With "Poppin' Guitars," Solid Air turns in another well-conceived and elegantly produced collection of songs that highlight the iconic works of a classic songwriter, or, in this case, a songwriting team: the Sherman Brothers. Ironically, though their songs are etched in our collective conscious, Richard M. and Robert Sherman may not be the household names they probably deserve to be, especially when taking into consideration that their compositions provided the childhood soundtrack for several generations of Americans though their extensive work with Disney studios. Solid Air assembled 15 seminal works of the Shermans and enlisted some of the most smokin' guitarists to create arrangements for solo guitar. The result is pure delight: Tommy Emmanuel passionate and pure on "Winnie the Pooh," Laurence Juber his usual mind-blowing self on "A Spoonful of Sugar," Greg Hawkes easing through "You're Sixteen," the accomplished Eltjo Haselhoff on "Supercalifragilisticexpialidocious," Nick Charles on "Chim Chim Cher-ee," Al Petteway on "Hushabye Mountain," and on and on. While the melodies are simple, the arrangements recreate these tales with a vividness that nearly startles with their visual coloring. But you don't have to be a fan of Mary Poppins and Eeyore to appreciate this work -- it's animated and joyous enough to stand on its own. An accompanying bonus DVD includes footage from the creation of the CD. It opens with a fascinating segment of Tommy Emmanuel recording his take of "Winnie the Pooh," followed by an interview with Emmanuel, who speaks openly and honestly from the heart. Another great segment is an interview with Laurence Juber, who explains the choices he made when creating his arrangement of "A Spoonful of Sugar." Juber plays as he speaks, and it is just as cool as all get out.
© Fred Kraus

Buy it at Acoustic Music Resource or Amazon.com
Listen to "Spoonful of Sugar" (mp3)

Mindy Smith, "Stupid Love," Vanguard Records, 2009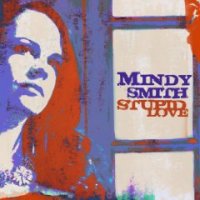 Three years ago, I reviewed Mindy Smith's sophomore release, "Long Island Shores," in these pages. The essential elements that made that record a success also distinguish "Stupid Love." Foremost is Smith's extraordinary voice: pure, crystalline, especially poignant in the lower end of its range, and tremolo free. Now, her delivery is even more confident. The theme once again is love, but this time around the album focuses even more sharply on the subject. Four songs use "love" in the title. Scan through the others ("Bad Guy," "Disappointed," "Couldn't Stand The Rain") and you might think the CD is all heartbreak and loss. But, though the vulnerability Smith projects can make the hurt tangible, all is not doom and gloom; the bouncy "Highs and Lows," says it best. In the biggest change from '06, the co-production by Smith moves sharply toward pop. Though guitars ("What Love Can Do") and even banjos ("If I Didn't Know Any Better") contribute, synthesizer rules. The opener, "What Went Wrong," begins with acoustic six-string. The insistent electric guitar and piano layers that enter after the first chorus may put off purists, but eventually make sense. Let it wash over you. Only a lovely instrument like Smith's could manage the utterly fitting melody line that constantly rises above and falls below the "Surface" of that beautiful number. "Telescope," largely acoustic, makes a move from major to minor that gives focus to Smith's singing. The standout track, "True Love of Mine," an ambitious straight-ahead love song ("the way you move, the way you laugh stays in my mind like a photograph") manages to reference traditional folk balladry while using a simple progression with its jazz roots showing. The gorgeous harmony and a tender whistle solo (yes, someone putting his lips together and blowing) set it apart. You won't likely find another album this year with so many memorable melodies. The message? Improve your romance IQ by grabbing whatever love, stupid or otherwise, you find. There's beauty in all of it.
© David Kleiner
Buy it at Amazon.com
Listen to "If I Didn't Know Any Better" (mp3)

Roland Dyens, "Anyway," GHA Records, 2009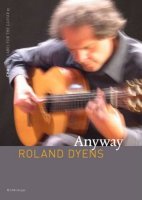 Guitarist and composer Roland Dyens has released over a dozen fine albums, but this DVD brings the viewer closer to experiencing his genius first-hand. Dyens begins the musical program with an improvisation (as he opens each concert), this piece reflecting highly developed compositional skill, technical daring, and even humor. Dizzy Gillespie's "A Night in Tunisia" evokes a miniature ensemble, with percussive taps on the guitar's top and sides, melodic statements in several registers, and driving chord work on the B section. "Tunisia," along with "My Funny Valentine," are two of my favorite performances here, largely because they are popular works that Dyens fully develops, displaying what Michelle Burch calls his "jazz mind and classical hands." He explores his classical repertoire with Ramirez & Luna's "Alfonsina y el mar", which appears both as a solo performance and played by a large student ensemble (which he conducts). "Berimbau", by Baden Powell, is probably the most technically complex piece, featuring slaps, string bends and jazzy parallel harmonies. The title tune is built largely from dissonances; later sections are easier on the ear, but the entire piece is both beautiful and compelling. The musical performances conclude with "Djembe", played with his son, who exhibits empathy and skill on the aforementioned instrument. The dvd includes a segments with Dyens reflecting on his musical life, scenes following a concert, with the artist talking to attendees and autographing CDs, and a photo album showing Dyens and his family throughout their lives. Audio tracks of the guitarist playing "Night & Day" and "Over the Rainbow" overlay two of the non-performance segments. Love of music, family, and consummate mastery imbue this project -- I can't recommend it highly enough.
© Patrick Ragains



Roland Dyens' Website Buy it at Amazon.com
Listen to "Anyway" (mp3)

Daniel Santiago, "Metropole," Adventure Music, 2009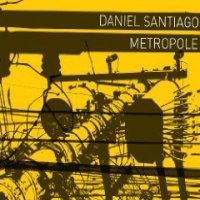 On Daniel Santiago's "Metropole" the Brazilian guitarist abandons the lush tropical environs of his native homeland in order to capture the energetic and dynamic creativity found in the bustling urban centers throughout world. Joining the guitarist is an exceptional cast of musicians including Josué Lopez on tenor and soprano saxophones, Vitor Conçalves on piano, Guto Wirtti on upright bass, and Edu Ribeiro and Mario Bahia each alternating on spirited percussion. Santiago plays a vital role as a member of famed mandolinist's Hamilton de Holanda's popular ensemble. The guitarist has also performed with such notable Brazilian musicians as Joao Bosco, Ivan Lins, and Djavan. Truly a gifted musician, Santiago plays with the melodic sensitivity of Pat Metheny paired with the fluid dexterity of Pat Martino. The opening "Old City" sets the pace for the album featuring sharp, syncopated unison breaks, and intricate, sophisticated, soloing. Conçalves' piano is exceptional throughout the recording and a perfect complement for the guitarist's masterful playing. Santiago selflessly gives his talented group plenty of room to play. His egalitarian approach provides opportunities for each member to intuitively interact on a level rarely found on recordings where the leader is constantly flaunting his own virtuosity. The guitarist skillfully and strategically alternates between burning electric numbers and pensive acoustic pieces. "Children of the War" is a bittersweet ballad featuring the leader's poignant and sensitive acoustic. On the reflective "Salamandra" Santiago pairs down to a trio offering the listener a chance to focus on the delicate nuances of his perceptive playing. "Angola's Dance" is an up-tempo acoustic number supported by an impressive soprano sax solo bringing to mind John Coltrane's incendiary approach to the instrument. The album closes with the blistering title track featuring the guitarist's fiery chromatic flurries flanked by perfectly executed unison phrases. Within the urban landscapes of this remarkable album Santiago and company create an alluring collection of music, which is highly recommended for discerning fans of contemporary jazz.
© James Scott


Buy it at Amazon.com
Listen to "Children of the War" (mp3)
Listen to Daniel Santiago at our podcast
Sergio Altamura, "Aria Meccanica," CandyRat Records, 2009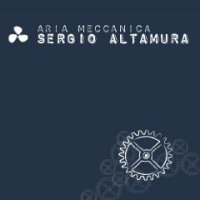 Sergio Altamura's "Aria Meccania" is a groundbreaking instrumental recording that redefines the parameters of contemporary acoustic guitar. For Altamura the guitar is his palette, and vehicle for producing a myriad of colors, in order to create kaleidoscopic soundscapes. Graduating from the University of Bologna Department of Music, the prodigious guitarist soon began playing with various rock groups throughout Italy in the mid eighties. However, in 1993 he decided to focus his musical talents on the intricacies of the acoustic guitar with his eventual personal concerts being enthusiastically received. Altamura currently performs in various ensembles, composes for theater and documentary films, and teaches seminars on contemporary acoustic guitar techniques. While listening to the pieces on "Aria Mechanica" one immediately senses that this is a musician whose primary goal is composing with his chosen instrument acting as his orchestra. On the title track the guitarist uses dense orchestral looping, processed guitar, voice, and effects creating cinematic imagery showcasing his endless creativity. "Dragonfly" is a dramatic ballad with thick sustaining harmonies reminiscent of Brian Eno and Robert Fripp's ephemeral ambient collaborations. "Flipper Special Parts I and II" are several interesting compositions displaying the artist's unique approach to percussive tapping techniques. Altamura is not just an experimental musician, but also a formidable guitarist in his own right. "Dancing Trees" features the masterful use of 12 string reminiscent of Steve Tibbett's and on "Naked" there are echoes of the great Brazilian guitarist Egberto Gismonte. Each sonic vignette flows seamlessly together like an impassioned soundtrack connected by an engaging driving narrative. This collection of imaginative compositions becomes more and more enchanting with each repeated listening. With "Aria Meccania," Altamura has released an exceptional recording, redrawing the boundaries of acoustic guitar, and is unequivocally recommended for all listeners of twentieth century music.
© James Scott



Sergio Altamura on MySpace Buy it at Amazon.com
Listen to "Dancing Trees" (mp3)
Listen to Sergio Altamura at our podcast
Claremont Duo, "Iberiana," Artek Recordings, 2009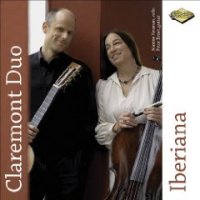 For this reviewer, there is no more satisfying a pairing in classical music, as is a Cello and a Classical Guitar. The low, haunting moan of the bass instrument is perfectly complimented through the quick, yet warm attack on the nylon strings. While the sustained melodic lines ebb and flow across the bow of the cellist, the guitarist fuels the rhythmic and harmonic drive of the music. The Claremont Duo, also evidently seduced by this unique blend of timbres, have prepared and recorded an extensive list of arrangements for the two instruments. This is their third disc of such arrangements, and it is a departure from the previous two as it predominantly features shorter length, well-known classical pieces. It covers a wide birth of composers including Debussy, Fauré, de Falla, and Saint-Saëns, to name a few. The arrangements are masterfully crafted, as they retain the original essence of each work while enjoying the unique interplay between the two instruments. While the CD is a pleasure throughout, there are several performances which stand out, including Danza Española No.1 by Granados and Entre'acte by Ibert. All of the works selected for this disc are beautiful and accessible, so if you haven't yet experienced the sound of a cellist and a guitarist performing together, I would highly recommend giving this CD a listen.
© Timothy Smith
Buy it at Amazon.com
Listen to "Seguida Espanola" (mp3)

Tim Sparks (Plays Naftule Brandwein), "Little Princess," Tzadik, 2009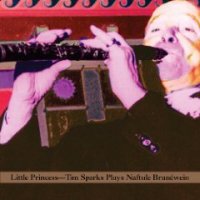 Tim Sparks is on a quest to bring to life the ancient and not-so-ancient sounds of Klezmer, the music nurtured by generations of Jewish people from Eastern Europe as well as Upper Manhattan, whose life was chronicled in the eclectic stew of multiple cultures melding into tumbling notes. On this latest project, Sparks arranges songs written by Naftule Brandwein, who can best be described as an eccentric musical genius of the early 20th century in New York City. Brandwein's compositions -- played on the clarinet -- stretched the cultural palette while remaining firmly rooted in the language of his people. Sparks -- along with his collaborators Greg Cohen on contrabass and Cyro Baptista on percussion -- tries to render the soul of Brandwein through his six strings. Sparks' own immersion into the sounds and meter of Eastern European music suit him as perhaps one of a handful of modern guitarists who can pull this off and make it work. The work of Cohen and Baptista cannot be understated -- they bring a brilliance of balance and counterpoint to Sparks' driving guitar work, whether he is playing single note runs or comping in exotic chord shapes. The first four cuts share much with Sparks' CD "At the Rebbe's Table", while the last 6 go in some different directions. "The Dearest in Bukovina" is a slow and smoldering study in Sparks' ability to take a melody and dance through it up and down the fingerboard; serious jazz stylings here. "Turkish Circle Dance" is driven by Cohen's contrabass while Sparks brings a lightness and breath to the song. The disc closes with "A Begel with Onions", perhaps my favorite track on the CD, where Sparks (playing solo here) begins with cascading fingerpicking, and lets the tune flow in and out, but never loses its sense of direction. If you like Klezmer, or think you might, "Little Princess" is a good listen.
© Kirk Albrecht
Buy it at Amazon.com
Listen to "The Rebbe's Hasid"

Tracy Anne Smith, "Lilac.Star.Bird," 2009

For her debut release Tracy Anne Smith has assembled a uniquely beautiful set of compositions, which have served to set this particular disc apart from almost any other I have heard to date. At the core of this recording is the work to which the CD owes its name, "Lilac.Star.Bird", which was composed for Smith by composer Ying-Chen Kao in 2007. It is an evocative and surreal soundscape, drawing influence from a poem by famed American writer and poet, Walt Whitman. Each movement is meant to evoke a lilac, star, or bird, and they go beyond mere imitations of their titles, rather serving as prolonged meditations on each topic. It appears that this concept is what influenced Smith to select the other works for the disc. Almost all of them feature serene meditative elements that perfectly compliment Kao's work, most notably the works by Kleynjans, Bogdanovic, Hétu, and Rodrigo, which all feature soothing, dreamlike passages. Several of these works are also at times bold and technically challenging, offering Smith an opportunity to display her incredible versatility as a guitarist. Throughout these passages, the rich and oftentimes thundering tones Smith can produce are truly breathtaking. Perhaps nowhere on the disc is this more apparent than during the second movement of Rodrigo's "Invocatión y Danza" when Smith reaches a dramatic climax rarely attained by other guitarists. This introduction to Tracy Anne Smith is an absolute success, thanks in large part to her thoughtful selection of works and her masterful playing.
© Timothy Smith
Buy it at CD Universe
Listen to "Arabesque" (mp3)

Home | Links | Podcast | Archives | Submissions | Free CD Giveaway | Subscribe | About
Laurence Juber, Doug Smith, Al Petteway, Phil Keaggy (and many more!) at Acoustic Music Resource
Buy Instructional and Biographical DVDs and Books at


(Click on image below to buy)
| | | |
| --- | --- | --- |
| Note for Note Transcribed Solos from Tommy's album "Only" | Night & Day - Guitar Transcriptions | Guitar of Tim Sparks - Fingerstyle Excursions |