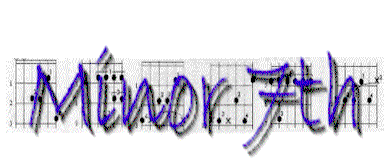 Reviewing the best in guitar CDs, from jazz to folk to rock to new age, emphasizing acoustic and independent or obscure releases
September/October, 2000
Tommy Emmanuel: "Only", Original Music, 1999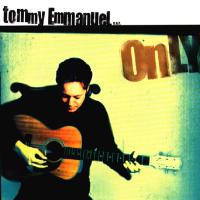 When I first heard Tommy Emmanuel's Snagglepuss-like snicker signaling the end of his solo guitar CD "Only", I lamented "Is that all?". Not because there were too few offerings (there are 14 tracks), not because the CD was especially short, but because I've never thoroughly enjoyed a recording so much and selfishly wanted the music to keep on playing. Only a few times in a lifetime does an artist come along who can do such magical things with six wires stretched over a wooden box that you'd swear he or she has a direct conduit to some karmic pool of creativity where access is given to only a special few... Emmanuel is such an artist. Though his instrument is the same earthbound tool all guitarists use, Emmanuel's compositions and fretwork swoop and soar to never-before seen musical vistas like a graceful bird in flight: just listen to "Drivetime" to really grasp that metaphor. A Chet Atkins influence can be heard in the upbeat and complex fingerpicking on "Mombasa", "Timberlake Road", "Luttrell" and "Train to Dusseldorf". "Padré" is a solemn hymn crafted with rippling arpeggios that sound more like a hammered dulcimer or harp. Emmanuel is good enough to realize he doesn't need to dazzle, and on "Questions" and "Since We Met" concentrates on merely coaxing hauntingly beautiful melodies from his guitar. The latter tune has the kind of chord resolutions and phrasing one might expect from a James Taylor song, and Emmanuel pays homage to J.T. for inspiration in his credits though it's "unfashionable" for such an accomplished technician to cite a popular singer/songwriter. Chet Atkins has called Tommy Emmanuel "the best guitarist on the planet". Chet knows guitar.


Alan Fark interviews Tommy Emmanuel!! - click here
Tommy Emmanuel's Website Buy it at Amazon.com

Jazz Mandolin Project, "Xenoblast", Blue Note 7243 5 25251 2 6V, 2000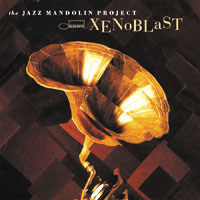 Is it jazz, bluegrass or improvisational rock? Leader of the Jazz Mandolin Project and mandolinist Jamie Masefield must occasionally feel schizophrenic, as though he's firmly seat-belted for a spin in the jazz genre only to be diverted Jekyll-and-Hyde-like for a detour into something more countrified. It's notable that most artists in the past have been too faint-of-heart to ever attempt a similar genre-bending experiment to "Xenoblast" which nicely exploits traditional instrumentation in contrary contexts, with the exception of perhaps Bela Fleck or Astor Piazzolla. It's also notable that Blue Note, the granddaddy of jazz labels, gave this CD their blessing... so you can bet that this project in hybridization is germinating mostly a jazz variety. There are exceptions though. The first minutes of "The Milliken Way" start down an avenue as backroad American as Hee Haw, and "Shaker Hill" would be labeled by 9 out of 10 as something resembling bluegrass. Contrast those numbers to "Hang Ten" which features a cameo appearance by Trey Anastasio of Phish, and you enter a more chaotic facet of musical Gen-X Americana where feedback and rock jams reign supreme. "Igor" is a tribute to Stravinski... not quite "The Rite of Spring", but as close as a mandolin, bass and drums will ever, ever come! Still, no matter how incredible the musicianship is on "Xenoblast", it's difficult to generate a full-bodied sound when you are only three together. My ear kept wanting to hear a sax or other solo line over the steadily marching chord progressions on "The Milliken Way" and "Dromedary". This is one of those recordings that is artistically satisfying in an intellectual kind of way, but one that you don't necessarily reach for as an emotional refuge or a feel-good lift. But Masefield and company are true visionaries who could change the course of modern music.

Jazz Mandolin Project's Website Buy it at Amazon.com

Erin Corday, "Painted Door", Waterbug Records WBG0037, 1998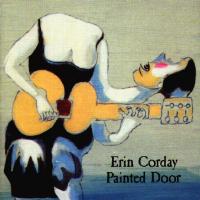 Take Badi Assad, mix in a little Ani DiFranco and Sheryl Crow, shake and mix, and you have... well, not quite Erin Corday, who is arguably more (and inarguably different) than the sum of what you'd get with the above concoction. "Painted Door" captures several of Corday's live Seattle-area performances, six consisting of guitar and vocals, three á capella, two accompanied by jarana. Although she is joined by Joel Litwin on percussion (do suitcases count?) and background vocals, Corday is the show. Not many artists have the poise and presence to walk onstage with only a guitar and one's voice like this, and Corday ardently and intimately asserts her songcrafts with an authority of knowing that both her talent and her passion will easily usher her through the night. Like Badi Assad, Corday's forté is a precise feel for rhythm and syncopation. Also like Assad, she dabbles in mouth percussion ("Didjago", "Pi") and takes advantage of the poetic cadence and interlocking phonics of the Spanish language on four cuts (though remarkably Spanish is not her native language), including a Spanish-language version of "Fragile", a Sting song. Although not a guitar virtuoso like Assad, her playing is on par with DiFranco and Crow, and more than adequately complements her incredible voice. Her performances "Who Says" and "Still Life" are breathtaking, the price of the CD is worth these two cuts alone. "Eclipse", a John Denver song, is likewise well executed but marred by poor sound reproduction, an indie problem acknowledged in the liner notes but ultimately accepted for the sake of preserving a moving performance. Though emotional depth obviously guides Corday's musical heart, there are glimpses of her playful other side on "Long Hair", "Tunnel Vision" and "Pi". "Painted Door" is a true artful rendering that deserves play far and wide beyond Washington State.

Buy it at Amazon.com
Andy Middleton, "Nomad's Notebook", Intuition 3264 2, 1999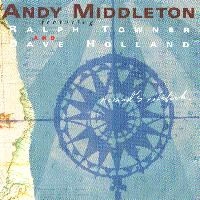 Whenever Ralph Towner or Dave Holland play on a recording, you can bet that something more profound than just jazz is going to happen. Their music exudes a spirituality that transcends a value beyond that of mere entertainment. I'm sure that saxophonist Andy Middleton is honored to have them carry that tradition into this, his debut project with Intuition, "Nomad's Notebook". This CD is reminiscent of Towner's 1975 album "Solstice" in that the sparse format is for the most part identical (soprano and tenor saxophone, classical and 12-string guitar, bass and drums), but also in that Middleton, like Jan Garbarek, has a talent to really emote on reeds by caressing individual notes rather than laying down a smokescreen with sheets of sound. Middleton's compositional skill is also on par with Towner. I was certain that "Mount Rundle", "Lizbet" and "Royalsock" were Towner compositions until I read the credits indicating otherwise. In places, Middleton's melodic lines feature the trademark doubling of guitar and sax so associated with Oregon. On "Kasbah Tadla" and "Songs of Struggle and Songs of Love" Middleton doubles a harmonic and modal motif with trombone to create a mystical and Middle Eastern dreamscape. Towner, as always, is brilliant on guitar, playing somewhere in the netherworlds between classical, jazz, Brasilian and ethnic musics. Towner contributes three of his own compostions to this CD including "I'll Remember August" where he puts his guitar aside for piano, and which is uptempo postbop similar to his other tune "The Glide". The only problem with "Nomad's Notebook" is that it has established a standard of incredible excellence for Middleton which will be hard to top in the future.

Buy it at Amazon.com
Danny O'Keefe, "Runnin' from the Devil", Miramar 09006-23148-23, 1999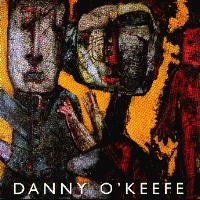 I first noticed Danny O'Keefe's "Runnin' from the Devil" both because artist Terry Turrell's cover art resembles Ralph Steadman's "Fear and Loathing" artwork, and because O'Keefe was featured as an "emerging artist" as I browsed through the Border's headphone section. I found out later that Danny O'Keefe's recording debut was in 1966, and he also wrote "The Road" on Jackson Browne's LP "Running on Empty", so apparently he's been "emerging" for quite some time. Like J.D. Souther, O'Keefe has forged a streamlined folk-rock sound with vocals and acoustic guitar at it's core, but also like Souther has inexplicably seen far greater success at songwriting than performing (writing for Judy Collins, Willie Nelson, Chris Smither and Donny Hathaway among others). The title track could be an Eagles tune, complete with a nicely played electric solo by Bill Cooley sounding a lot like Joe Walsh (albeit incomplete without harmony vocals). "Well, Well, Well", co-written with Bob Dylan, has the bluesy feel of Savoy Brown. But mostly, O'Keefe's music resembles that of Jim Croce, Don McLean, The Band or J.D. Souther. Although O'Keefe's songwriting, singing and guitar work are all quite pleasant and very competent, he can't quite hoist his sound and reputation over into the knock-em-dead tier, and may be why his emergence into stardom seems to be stalled.

Buy it at Amazon.com

Please visit Phunquie Pholk, hosted by guitarist, writer and instructor Eric Elias, and where you can buy jazz instruction materials, CDs and more!
Home |Links | Archives | Submissions | Free CD Giveaway | Subscribe