Chris Smither at the Ram's Head in Annapolis, Maryland May 17th, 2003
by David Kleiner
First you hear the tapping of Chris Smither's foot. And, because the soundman is particularly in the groove tonight, you feel it, too. Smither starts a guitar lick and feet are tapping all over the room. The audience is particularly in the groove tonight. They laugh, listen, and respond. The tune is "Hold On," the opener on "Live as I'll Ever Be". A raucous version of Robert Johnson's "Dust My Broom" follows. It's obvious already. Chris Smither is particularly in the groove tonight.

What's your take on swing and finger picking?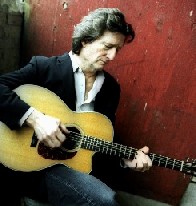 I call it groove. That has a lot to do with my addiction to "one-man-bandism." What I really liked about Mississippi John Hurt and Lightnin' Hopkins was their ability to orchestrate on one instrument. To that end, there is a rhythmic, propulsive style to my finger picking that's amplified by miking my feet.

Groove is the essence of engagement. I'm all about live performance. I make the records, I write the songs, so I can get up in front of people. That groove, that motion oriented swing feel, locks people in. It makes the music instantly accessible, makes them pay attention to the lyrics. The lyrics are ultimately what I'm trying to sell.

How do you mike your feet?

Just an SM57. Nothing fancy. It's not so much how we mike it; it's the fact that it's miked at all. What's surprising is how long it took me to realize what an important component in my whole sound my feet are. If the stage was carpeted and people couldn't hear my feet it took away a whole element. I don't think at all about my feet, but if someone tells me not to move my feet, I can't play.

Mississippi John Hurt...

I'd never heard of Mississippi John Hurt before I bought "Blues at Newport 1963", a seminal record on Vanguard that introduced me to Dave Van Ronk, Skip James, Sonny Terry and Brownie McGhee... It totally knocked me out, but nobody moved me the way John Hurt did. So elegant and so simple sounding yet unbelievably complex… that rolling syncopated style. I thought if I could just play like that I could die and go to heaven.

You got the opening cut on the tribute CD, "Avalon Blues"...

I was such a fan and Peter Case knew it. He's putting this project together for Vanguard and asks if I'm interested. I said sure and asked to do "Frankie and Albert." With David Goodrich and Peter Mulvey one day, I started playing it. Goody did a little mandolin. Peter was slapping away at a D tuned guitar--a very low tuned guitar--and inside of about 40 minutes we had it. Got into a studio the next day and recorded the whole thing in three hours. Peter calls back, ecstatic. "If the rest of the stuff is half as good, we're going to have a great record." Then I didn't hear anything about it for almost two years.

It wasn't that he had to convince people to do it. Everybody thought it was a good idea. It just took him a long time to negotiate, get musicians to do what they say they're going to do, talk to people through management…

Like Beck? What did you think of his straight-ahead "Stagolee?"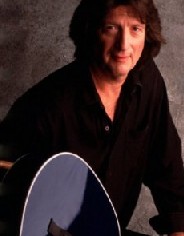 Amazing. A number of the performances were stunning. I thought John Hiatt's piece was some of the best stuff I've ever heard him do. Mr. Rock and Roll vocally, with the facility to do a John Hurt song the way he did! Bruce Cockburn's cut was so informed by the spirit. Without being exactly like John Hurt, it was John Hurt. Bill Morrisey's cut was one of the two or three best.

You cover "Candy Man" on the soon-to-be-released "Train Home". Do you remember learning "Candy Man?"

I'm still learning it.

For me, learning from John Hurt was a lot about my thumb.

When I first found out there was such a thing as three-finger picking there weren't a lot of practitioners in New Orleans. For a big music town it was pretty slim on guitar playing, especially in that style.

A couple of guys at Tulane told me the whole idea is to keep that thumb going. I quickly learned you could get into patterns that would make it do that. John Hurt made me realize the thumb had to maintain that rhythm no matter what's going on with the rest of your hand. Your thumb was like the left hand on the piano, keeping that steady beat going.

Lightnin' Hopkins used a pedal effect. Not an alternating thumb but a boom, boom, boom on that E string and then on the A string.

You have to develop a kind of schizophrenia in the right hand between your thumb and your fingers so they can do different things. Having said that, it's very difficult for me to analyze what I do. I see tablature other people do of my songs and I say, "Is that what I do?"

But you did an instructional guitar video...

With a certain degree of apprehension... Jorma Kaukonen told me, "Do it. Happy Traum will make you look like a genius." Then I had a great time.

The video assumes a certain knowledge of the guitar-not too high-but I try not to talk down to anyone either. I teach how to play Chris Smither songs, something I know something about. I try to teach things that could be used in arrangements for almost any song… tricks and tips. It really shows people how to get out of first position.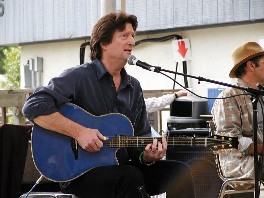 Smither introduces "three love songs, or more accurately, three accounts of dysfunctional relationships. That's what passes for love songs these days." One of them is "Lola" ... "a song about obsession. We never understand the depths of desire until we find something that's really bad for us."

"Lola," shows what you do with words. "Everybody says she's a hell of a kid, but she ain't no kid when (Smither joins in.) she's cutting me apart. That's okay, I told her from the start."

Yeh. "Don't stop sweetie till you get my heart."

Exactly.

I'm very proud of that song. When the lyrics first started to come I would have said it's going to be an impressionistic painting that gives you a feeling without being specific. Instead it snarls and says, "No, this is going to be a real story." A brutal story, but I think some guys will really relate to it.

It could never happen to either of us.

No, of course not.

In "Lola" the words swing without the music.

It all has to do with the feel. I've got a guitar groove or lick before I ever write a word. Then I get a verse form, though once you get to the writing, things can change a lot. I write free form verses. Then I take a look at them and say, "What can I get out of here?" I'm always working to link the vocal to the music, make it move rhythmically. I can't imagine doing it the other way around. I don't see how it becomes integral.

Two highlights of the show are Smither's slithering rendition of Dave Carter's "Crocodile Man" and a spooky version of Dylan's "Desolation Row."

...Bonnie Raitt, who did a pretty good job recording a couple of your songs ("Love You Like a Man," "I Feel the Same")…

Paid for my house...

sings "Desolation Row" with you on the record.

Goody, who produced, says he's got big plans for this one. He asks if I'd call Bonnie. He wants it to start solo, build, get pretty big in the middle, then close like an envelope and tail out solo. Bonnie will sing harmony on the four chord releases and do some of that real tasty slide work. I haven't asked her to do anything since my first couple of records. It's always been in the back of my mind, but I wanted her to do something because it was perfect for her, not to get a marquee name on the record. She jumped at it.

When her voice first comes in, I get chills...

I've been listening to that track for a few weeks and it still gives me shivers.

Smither introduces a mean, fast version of "(I Can) Love You Like a Man" as "a nostalgia piece" written at 22. Riding the train from Beacon Hill to Harvard Square to play music, he'd felt a bit sorry for his fellow passengers. Now, he says, "I ride the train once in a coon's age and there's always some 22 year old looking at me." Then brand new stuff from Train Home: "Never Needed It More," "Outside In," and "Call Time."

Talk about David Goodrich...

He's a marvelous guitar player, but when he has his producer's hat on, he's totally in service to the song. He will not play guitar on something unless it needs guitar. I love Stephen Bruton. He taught me to enjoy making records. But three records is enough. I was dreading looking for a producer…

The collaboration with Goody had its seed in that John Hurt thing. I was hacking out ideas for this record. He was playing along. Listening to the mini-disk later, I'm thinking this is what I should be doing. So I said do this record for me. He was very pleased. I asked if he had any grand concept. He did. He wanted people to hear the songs in the same feel he hears them sitting across my dining room table.

How live is the record?

Very live. Very relaxed. The basic tracks were done live in my living room. Just me. The rest of the stuff was added later. I started off doing several takes of each song. On the suggestion of Goody and the engineer, Mark Thayer, I started doing sets. We would take a break, have some coffee, come back and do the set again in a different order. Four or five sets like that and we had a take for everything.

Smither's gorgeous version of Rolly Sally's "Just Killing the Blues" (from "Happier Blue"), slow and lovely in open D, has that living room feel. Nothing fancy. Just direct communication with the audience. Later, Smither plays the title track from "Train Home," a song about death.

But it's a real toe tapper!

Yes... The song came out of a conversation I had with Peter Mulvey. I'm not sure I ever told him this... You know what it's like to be alive. You have no idea what it's like to be dead. What about in between? And in a sense that's what "Train Home" is about.

Smither relaxes into a slow groove for "Small Revelations." His thumb hangs on low E, Lightnin' Hopkins style. The audience claps along with "Link of Chain." Then traditional blues "Duncan and Brady" and two encores, "Caveman" and Smither's "favorite love song," J.J. Cale's "Magnolia." The show is over.

You recorded a commercial for a seafood breading mix?

(Laughing) I forgot all about that. I had to come up with some music for a little jingle. I was intrigued that I actually could make it fit inside thirty seconds. It didn't go very far, but at the time it seemed like an awful lot of money.

Did you get a lifetime supply of breading?

Never tasted it.

Don't worry, that won't be in the interview... Oh, maybe it will.

One last question, how does one pronounce New Orleans correctly?

New Aw'lins. Never Nawlins. It is three syllables.

Everybody in the audience seems to have one last question for Chris. They wait, CD's in hand. I'm waiting with some guy from the staff. He's been working at the Ram's Head for years, hearing virtually every show. He says this was one of the very best.

I believe it.
© 2003 David Kleiner
Here's a discography for Chris Smither:
For more information, see Chris Smither's website at www.smither.com.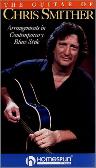 Buy Chris Smither's Guitar Instruction Video at


(Click on image to buy)
Home | Links | Archives | Submissions | Free CD Giveaway | Subscribe